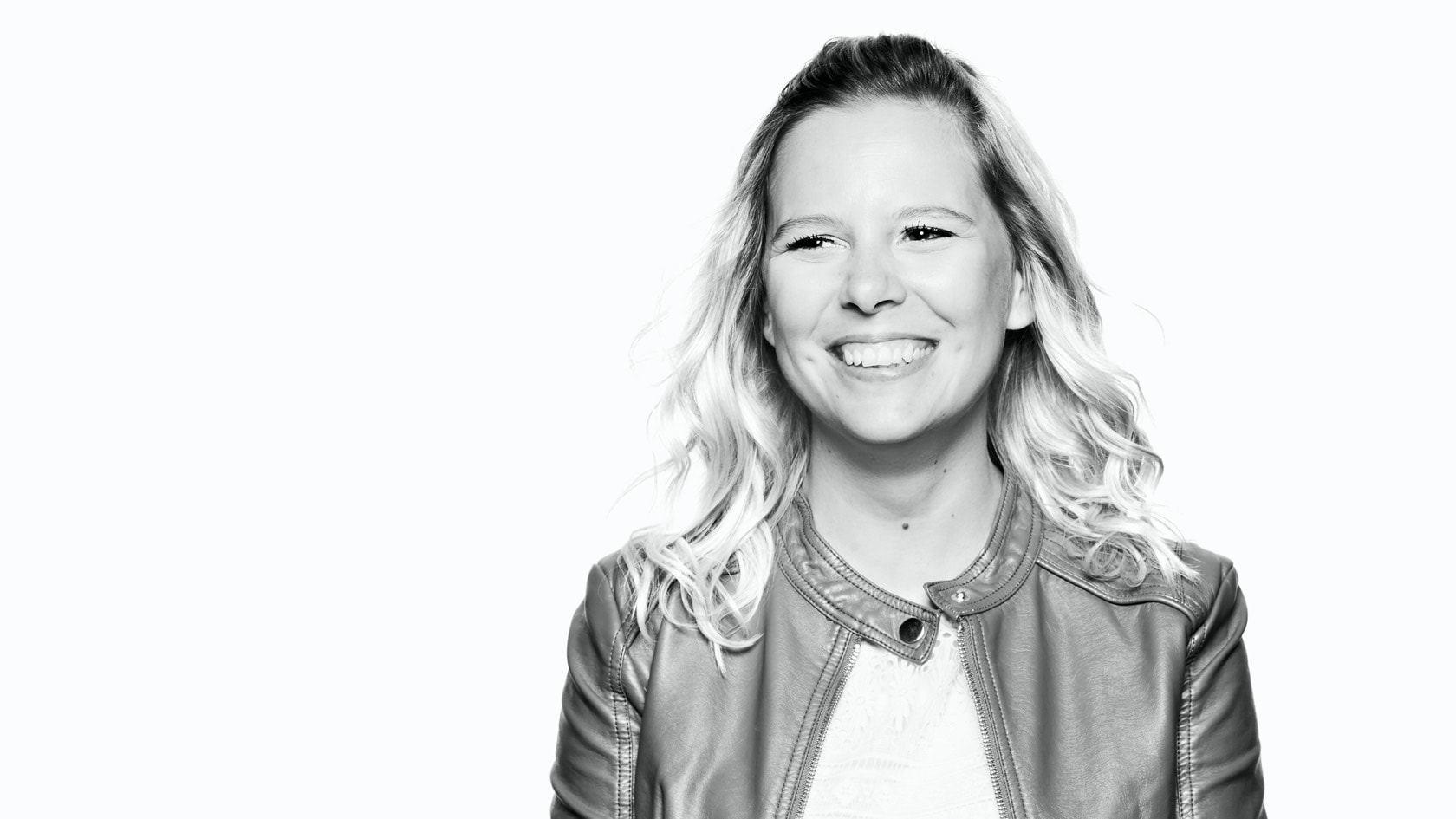 Sylvie
With the rain bucketing down and the singer's leg in a cast, it seemed nothing could stop this show or dampen the enthusiasm of the crowd gathered on the Plains of Abraham to see the Foo Fighters.
And there on her tiptoes in the heart of the deluge was Sylvie – an entrepreneur, businesswoman, lawyer – singing her heart out.
"I really admire Dave Grohl. He reaches out to people. When he talks, he speaks about the importance of being fully yourself, of not taking yourself too seriously. He's not afraid to be humble, or to give advice."
After her work is put away for the day and her computers are switched off, Sylvie reads, writes, broadens her cultural horizons, and – as often as she can – immerses herself in the intensity of a live show.
"I love concerts.
It's everything that makes us human.
Everyone gathered together with one common purpose.
There's just a vibe, you know? The whole crowd feels it.
And after certain concerts – like Xavier Rudd, who I see every time he comes to Quebec – you walk out feeling like you want to hug everyone you meet!"
It was no passing whim that made Sylvie get a tattoo of a musical note on her wrist. But for a long time she had to keep it hidden, or risk not being taken seriously.
"Having a tattoo in the legal profession, well.
We're all steeped in these formal rituals – the suits, and all that.
So after I had it done, I went out and bought these big wristwatches that I could wear when I met with clients.
I hadn't accepted myself.
By now, I've got so many, I don't think I could cover them up, even if I wore long sleeves."
---
To understand Sylvie's entrepreneurial spirit, we need to go back to before she:
- Managed her own law firm, Vigi Legal Services
- Was recognized as a Young Business Person by the Junior Chamber of Commerce of Quebec
- Hosted "Canada's Podcast" for entrepreneurs
- Published two books, and
- Acquired shares in a number of Quebec businesses
It started with a garage sale.
"I was the youngest of three girls in my family. One time, I gathered together all the things my sisters wanted to sell, and organized the sale myself. You should have seen how impressed my parents were!"
Though Sylvie's father is an entrepreneur, it wasn't immediately clear whether she was cut from the same cloth. Her early dream was to make her name on the stage.
"I wanted was to be an actress.
I was crazy about theatre. I did it in high-school.
Then one day I watched The Juror, with Demi Moore, and I thought, 'Wow, being a lawyer looks super cool. Wouldn't it be awesome to be an actress, but play the role of a lawyer!'"
It was her first inkling of a desire to go into law.
The idea took hold when a lawsuit threatened to destroy her father's business. Sylvie was appalled by this experience of unfairness, which showed her that justice depended on financial means.
"My father wasn't especially rich, but he wasn't poor either. Still, when he was sued, he didn't have enough to pay a lawyer. I had never imagined that my father could be forced into such a situation, where he was powerless to defend himself."
"I was shaken. That's why I decided to go into law – to help people, to be there for them."
Above all, Sylvie wanted "to feel useful." Though she didn't know it yet, this desire would find expression in a more humane approach, the "democratization of law," that would become her trademark. She threw herself into her studies with unbounded fervour.
But the pressures of academic performance and rigid structure put her enthusiasm to the test.
"I was a confident, happy kid, a leader.
But when I got to university, I started to suffer from anxiety and panic attacks.
I found out I had agoraphobia.
For nearly ten years of my life – undergrad, bar exams, articling, starting out in practice – I felt like I had become a different person.
I'd gotten into this with the idea of helping people, but I just got swept up in the current. I'd drifted pretty far off course before I realized that I'd become someone I didn't recognize."
Thanks to her strength and passion, Sylvie found a way to carve out a place for herself. She specialized in business law, and articled with the third largest firm in Canada.
When the time came to enter the job market, she was still trying to find herself.
"I'd last about a year at each firm, and then pack up and go elsewhere.
After my final experience working for someone else, I started thinking, 'Maybe I'm just not cut out to be a lawyer. I'm not finding what I'm looking for and I'm getting fed up.'
My boyfriend at the time asked, 'Why don't you try working for yourself?'"
---
"At first it was just me, working out of my living room. I wanted to take my shot. I didn't have much to lose."
Thus was born her legal services firm. She strove to bring a human touch to her practice.
"When I started working for myself, I was like a kid in a candy shop.
Whatever work needed doing – marketing, event planning, financial forecasting – I rolled up my sleeves and dove right in.
Little by little, I started to see something poking out: my true self, the one I'd hidden away all these years."
Here Sylvie checks herself. To be clear, there was no magic flick of a switch: it took a lot of energy and hard work to learn to let her personality show in her business.
"It wasn't like I just burst in shouting, 'It's me, Sylvie!' But by then I'd grown comfortable with who I am. And you know, five years from now, I'm only going to be more so."
True, she often comes against prejudices in her chosen profession.
"The biggest hurdle for me was establishing credibility.
People who work at a firm will say to each other, 'Oh, so-and-so is trying to start their own practice, it must mean no one else would hire them."
Even with my own employees, I had to fight this preconception, say 'No, I work for myself because I love it!'"
"At the moment, the biggest challenge is convincing growing, successful businesses to take me seriously.
Sometimes I get imposter syndrome when I go after the bigger clients, even though I know I have what it takes.
Older guys will be like, 'You're a cute little thing, but…'"
Asked about the stigma facing women in the business world, Sylvie is noncommittal.
"I get the feeling that people associate authority with men, more than women.
And looking younger than my age doesn't help.
When I started on my own, I had this reflex – which I still have today – to reel off my years of experience."
14 years in law. 11 years running her own business. It's an impressive resume.
"But people are also drawn to the more human, more empathetic side, that I am able to let out, as a woman."
---
Now a prominent member of the business community, Sylvie gravitates toward leadership roles in associations and businesses.
But when she says the word "power," you get the sense that what she's talking about is "freedom."
"I need to feel free to make my own choices, set my work hours, make decisions, decide what meetings I'll take.
For me, that's power: the freedom to make my own decisions.
I don't want to have power over other people.
My guiding principle is: take care of people. I've made that my mission in life."
It's no coincidence that her firm is called "Vigi Legal services": her goal is to safely guide her clients through risks, and onto a clear path. For Sylvie, that's the meaning of leadership: putting her skills to work for others.
"Power also contains the idea of influence. When I put my hand to something, I want to see how my ideas leave their mark."
With Sylvie's advice, a chain of barbershops was able to grow from two to nine locations. She got them off to a solid start, and even organized online events for them in Quebec City, but when their vision and hers began to diverge she parted on good terms, letting them find their own way of flourishing.
And once again, this need to help others shines through, along with her warmth and sensitivity.
---
Today, as her star continues to soar, Sylvie dreams of the future.
Her bucket list is only getting longer. She wants to become a dragon ("You know, like on the show Dragon's Den. It comes from my desire to teach, to develop my mentoring side."). Become a radio or television host ("I'm hosting a podcast right now, which lets me meet all kinds of talented entrepreneurs.") And maybe write a third book that, unlike the first two, which explained business law to non-specialist readers, would share more about her own experiences.
"I gave a presentation where for the first time I talked about my anxiety in public. Afterwards, people came up and told me how much it spoke to them. It made me want to write a book about my experiences that would combine tips for professional success and self-fulfilment."
In the end, the point of these ambitions is to continue to grow, to share her wisdom with those who want to follow in her footsteps, and show them that it's possible to "be yourself," if you dare.
Back to the mural