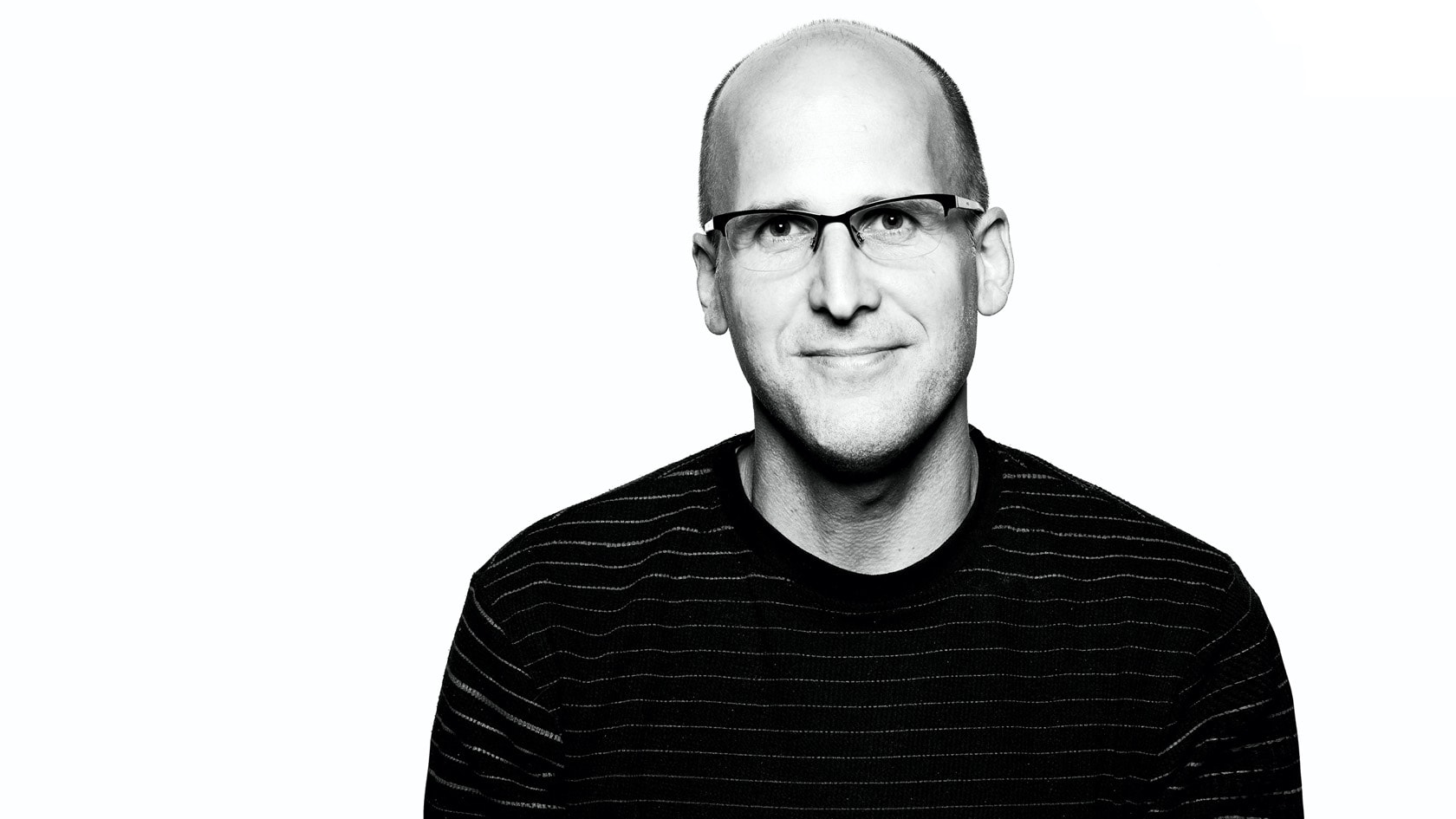 Simon
"When COVID hit, we were supposed to be going on a family trip."
"But then we entered a very confusing time. There was pressure to stay home. But there were no clear rules.
We'd already put down a lot of money. It was a big trip, one we'd been planning a long time. Based on the information we could find, there was no way to postpone it. We were getting pretty nervous.
Then, five days before we were set to leave, the Prime Minister held a press conference. 'We're closing the borders,' he announced.
After that statement, the government website was updated. We finally had the clear guidelines I'd been searching for everywhere. Insurance companies updated their sites. Refunds or credits became available. We could finally relax."
"I said to my girlfriend: 'I just got to experience, firsthand, what my work is good for."
His laughter unfolds like a parachute. Suddenly, everything is fine.
Simon is director of digital communication and publishing at Quebec's education ministry. He has been a civil servant for over ten years.
There are plenty of stereotypes around the public sector: people think of endless paperwork, labyrinthine bureaucracies, and of course the famous beige cubicles...
Simon smiles, sketching with an easy-going gesture the image of co-workers who are 'dynamic,' 'zany,' 'fun.'
"Sure, the cubicles are beige. But there's always a cool person on the other side."
Cool, yes, but more importantly competent, engaged, and driven by a sense of purpose.
"Do I feel like I'm serving the public? That's the million-dollar question, especially since I started working in the web department, because everything – the information we present, how we structure it, the words we choose – is truly thought out from the perspective of the public. Did they find what they wanted? If not, we make adjustments. We take the language of administration and translate it into something that makes sense to the average person.
And that makes a real difference."
---
Long before you could find him in Quebec City's Complexe G office tower, you might have seen Simon rip by on his bike, in the forests of Charlesbourg.
"When I was a kid, I loved being out in the woods, building forts, going to my summer camp – Patro Laurentien."
Simon was a quirky, dreamy kid, which made him the black sheep in a family of three boys. When he wasn't drawing, he'd get on his bike and ride up and down the leafy streets of Lac Beauport and Orsainville, in search of friends to hang out with.
"As I got older, I got more into sports.
I played a lot of volleyball, basketball, football."
And when Simon develops an interest, he goes all the way. Above all, he loves getting other people excited about the things he's passionate about.
"I went to day camp until I was 14 or 15, and all my friends were there too. When I turned 16, I became a counsellor. And I worked my way up, until I was running the camp. I've always got along well with kids and teenagers. I was a football coach too, while I was playing at the senior level."
This desire to pass his knowledge on to others would become a passion. Though he hasn't always been so aware of it, that passion never left him, and shines through in his life choices.
He became a top-flight football player, so good that he seriously considered playing at the college level. He left Quebec City for Victoriaville, where he'd been approached to join the team. And with his good grades, he chose to enrol in the science program, "because apparently it opens a lot of doors," he says, sarcastically. But he soon felt trapped, not himself.
"I didn't like biology. I didn't want to be a doctor.
I basically had no idea what I wanted to do with my life."
He decided to quit college sports and move back to Quebec City to study graphic design. This time, everything clicked. After completing his diploma, he joined a company, QuébéComm – "we did the Grand Rire Bleu comedy festival" – and developed his own graphic style.
"I developed a killer portfolio," Simon recalls. But he also had to think about his financial security, since the job was poorly paid. "I was making even less than when I worked as a day camp counsellor."
Again we hear his gentle laughter.
In addition to the opportunity to develop his creativity, Simon's new job exposed him to the world of media relations.
"I always figured I didn't want to become overspecialized.
I want to be a generalist. A jack of all trades, someone who sees the big picture.
And that's when I began to see that graphic design was somewhat – limiting.
I saw what my colleagues were doing. It looked exciting."
He started part-time university studies and ended up with a tailor-made bachelor's degree in public communications and graphic design. He also took courses on teaching, "because it's something I enjoy."
On two separate occasions he almost became a graphic design instructor, but both times it slipped through his fingers.
"At my first interview, they looked at all my communications experience, and figured I wasn't 'technical enough' for the job.
The second opportunity caught me off guard. They called me up: 'You've got an interview tomorrow.'
They were looking for someone with a bit more of a communications background, but I didn't have time to prepare the interview, so my presentation was much more focused on my graphic design work. So this time, I was 'too technical.'"
These were cases of "missed connections." Simon still didn't know that, one way or another, he would come to play a fundamental role in education.
---
At 27, an accident while fishing had Simon bedridden for an entire summer. With all this downtime, he took stock of his life. He realized he'd been running around in circles.
"I'd been working in events for ten years. I had no job security, it was contract-by-contract.
'Enough is enough,' I thought
And I set some objectives. I wanted a more stable job.
I made a list of where I wanted to be at 30. More stable housing, a more stable relationship, and financial stability. It was time to get serious.
The following year, I opened my own business, and even though it went very well, it was still just a series of contracts.
I had to readjust my plans."
In 2008, Simon joined the team for Quebec City's 400th anniversary celebrations. But even that was a job with no future. "It was weird: you knew that your job would be gone in 2009. So everyone was always talking about what we'd applied for, where we wanted to work after." Gradually, the other employees left, which opened up opportunities in public relations. "I got to run my first press conference, write my first press release. Try things other than advertising. And I really liked it." Simon diversified his practice, developed new talents.
And then, as he chatted with colleagues, the idea hit.
Why not the civil service?
---
"At first I was apprehensive. I mean, I went from event planning to pension plans!"
After passing entrance exams, Simon found himself working for the Quebec government's pension plan administrator. "Needless to say, our communications weren't exactly... sexy."
Luckily, he had young, fun-loving colleagues. "Everyone was 20 or 25. The same kind of team you found in events management. It was such a great year." And he discovered a more creative, outside-the-box job than he would have imagined.
"My manager was a real eccentric.
We were working on internal communications campaigns for the new IT system.
And we played on the trope of the disenchanted employee, flipped it on its head.
We'd make caricatures for our newsletters, posters to put up on the cubicle dividers.
I said to myself, 'Wow, there's plenty of creativity in the government.'"
Comforted by this welcoming new environment, Simon refocused on his new goal: education. Once he was permanent, he could apply to an internal posting for a position with the Ministry of Education. His eclectic profile – graphic designer, and all-round strong communicator – attracted attention right away.
Now Simon is doing exactly what he is passionate about. And he has been for ten years.
In a role that uses the wide-ranging knowledge developed over the years, he is overseeing the migration of online information about education to the quebec.ca portal. "I was never really a tech guy. I quit graphic design because I didn't want to be constantly learning new software. I just wasn't into it." Simon soon saw that in his new role he could mobilize all his skills to help prepare a tool that really serves Quebecers.
"As my colleague Martin would say, 'The WOW effect for the public is when you find the information you're looking for in language you can understand.'
I can really make a difference."
---
R.I.M.A.T.
Reflective. Imaginative. Mediator. Action-oriented. Traditional.
"That was my psychometric profile (we do tests in the civil service).
Not many people are both 'Imaginative' and 'Traditional.'
That means I'm not really the type to wing it, when I'm creating.
I'll have an idea, but I also ask: 'What practical steps can make that happen?'"
Simon's big idea, along with his stable job that let him plan for a bright future, was a family: a loving partner and two stepdaughters and a daughter, to learn and grow with, and pass on his values and passions. It was an opportunity to transmit the "family culture of helping others," which Simon's own parents had instilled in him.
"I've always been a team player, community-minded."
"In my dad's family, if you've got a shed to build or a kitchen to remodel, you can be sure everyone will be there.
For me, considering the impact you'll have on others is critical.
That's why I didn't want an only child. I wanted my child to have that experience at home."
Now Simon feels firmly anchored in life. His eyes light up when he looks back over the road travelled. He sees his path, where the obstacles have become beautiful stories, and decisions have become dreams come true.
"When I was 27 and decided that I was ready to commit to a stable life, it was a watershed moment. I'm proud I did that.
I set clear objectives and, you know what, I achieved them.
Then you wonder: have I gotten just a little too comfortable now?
Am I due for another change?"
Maybe one day he'll come down from the office tower and go back to running around the forest, or punting his football, or drawing.
Until that day comes, he's found a space where the passions of that dreamy kid can thrive, and he can spread a little of his light around.
Back to the mural