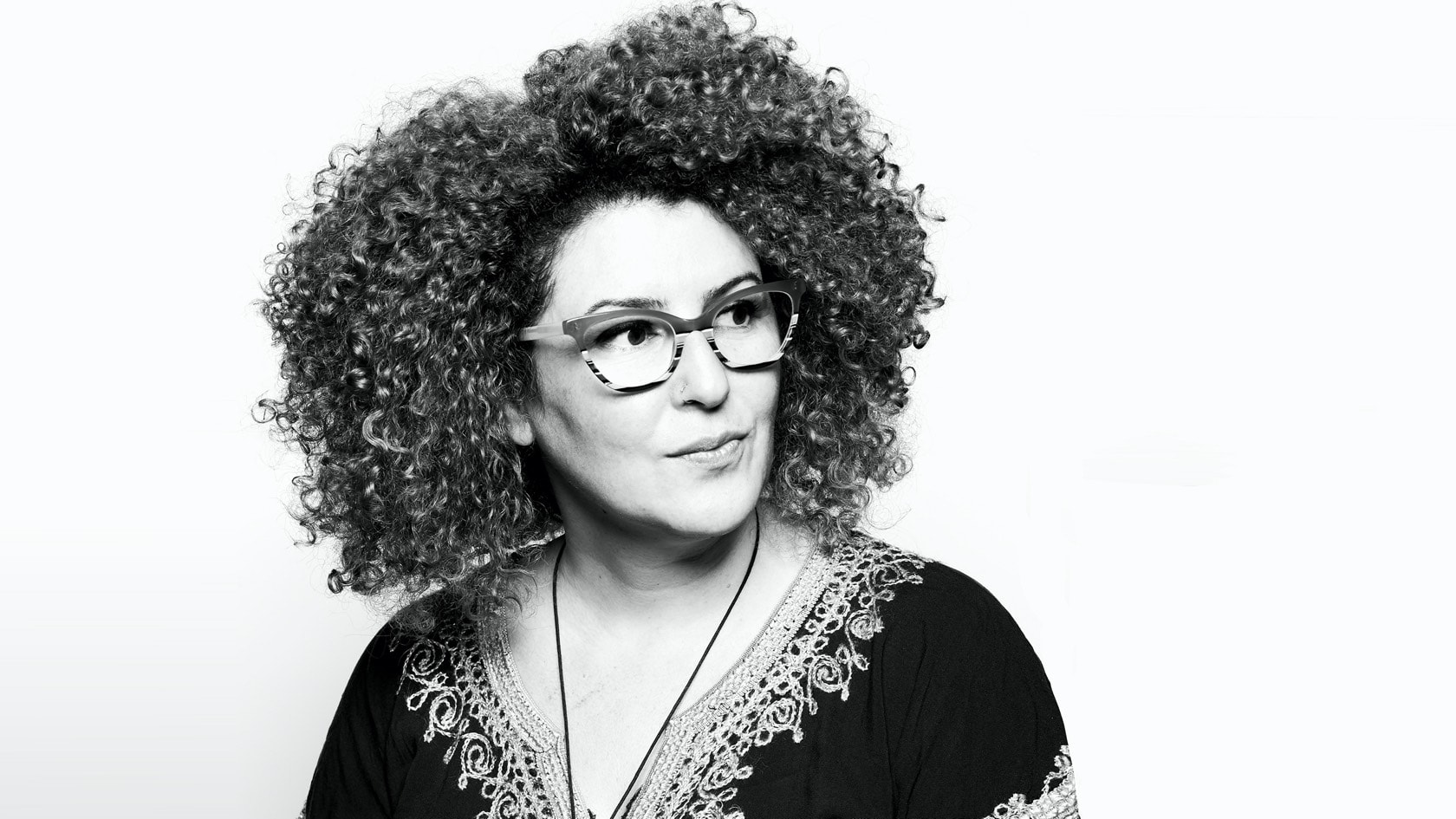 Maya
Maya sees herself, first and foremost, as a citizen of the world.
"It's about respect for human dignity, recognizing vulnerable individuals. Focusing on what we share as human beings – feelings, individual experiences. Everyone has the right to a good life, their identity, and their homeland."
She uses a calm voice to explain it, stressing every word and idea. Through her glasses, her easy, comfortable gaze makes it clear that she is addressing you as an equal. It's the equivalent of an outstretched hand.
"In Tunisia, our sense of community is very strong. When I was growing up, sharing and helping others was extremely important. So if someone wasn't home, say they missed out on getting a piece of a cake – well, you could be sure we'd save them a piece for later."
That upbringing is likely the source of Maya's desire to reach out to others in need. But does that mean losing sight of her roots? No, she says. We must never lose sight of where we come from.
"Sure, I was born in a certain country. And I can always go make my life elsewhere. Make a contribution elsewhere. But the question remains: What can you do for your country of origin? For your family?"
---
Maya landed in Quebec City in October 2017.
And she jumped right in the deep end.
"I got off the plane in Canada on a Friday… and I was volunteering on the Monday!"
As an immigrant herself – albeit, for less than a hundred hours – Maya decided to lend her skills to an organization in the St. Roch neighbourhood that helps newcomers to Quebec.
"I became the go-to translator or interpreter for Syrian families. They can be disoriented. I try to refer them to services. They can call me any time of day or night, and I'll answer. I become a friend, a support."
Having spent 11 years working for the Institut arabe des droits de l'Homme, an NGO, Maya has been active in the fight for human dignity for a long time.
"I defended the rights of LGBTQ+ communities in Tunisia. Helped out in international networks for the abolition of the death penalty. Did a lot of work in very marginalized communities in Tunisia, with young people. I listened to them. Helped them develop life skills, discover how to integrate into society, develop their self-confidence."
Maya has found ways to use her experience to help new immigrants, while pursuing her own interest in the culture of her new home.
"By getting active in the community, I've met a lot of local people. We did home visits, with seniors. And I've had a wonderful opportunity to discover Quebec's cultural heritage, through people's life stories."
These experiences, along with Maya's volunteering and her interest in Quebec, made her want to do even more. She got a federal government job as a program officer.
Maya has only ever wanted to work on the front lines: if she sees a problem, she'll rush right in, unafraid to get her hands dirty.
"I said to myself: the least I can do is be the voice of some immigrants who are suffering. Because behind every statistic, there's a story and human suffering. Whether here or elsewhere, the most vulnerable ones always need the government's help most. The good thing is that, here, they can find help. In other places, it's every person for themselves."
In her new job, she has enjoyed many wonderful encounters with the people she supports. But sometimes seeing people struggling is still too much for her, and she feels the need to step beyond her role.
"There was this one time. I hung up the phone.
My husband asked, 'What's going on?'
I said: 'Listen. I couldn't help myself.
I couldn't help myself.
I took down the gentleman's address.
I'm going to his house. To see how we can help him.'"
And Maya set out into Quebec City.
Out to save one more small world.
---
Maya landed in Quebec City in October 2017.
With her she brought a desire to understand what pushed young people to desert their homeland, the subject of a university thesis that will likely remain unfinished. How could her university studies compete with her desire to provide hands-on help?
She decided she needed to experience this displacement in order to understand it. This made her, in a sense, the guinea pig in her own research.
"I had so many questions, so many hypotheses. And I said to myself: 'I'm going to do it. Discover the Canadian dream.' Because in Tunisia, we dream of so many places, it's like we've given up on the Tunisian dream."
With distance from her homeland, she has come to believe that she has put her finger on part of the problem: "Young people don't feel that their government is looking out for them. They aren't close to the people, aren't listening. Even though health care and education are free."
The solution, in Maya's view, could be as simple as getting to know their own country better.
"They don't know it. Don't know what opportunities are out there." So young Tunisians leave – for Canada, Europe, and elsewhere – and these countries reap the benefits of their expertise. You see it in laboratories, corporations, and all kinds of settings.
But Maya takes comfort in the young generation she has met in Quebec. Spending time with them makes her hopeful, if only for the ability of her compatriots to find their places here.
"Young people in Quebec are very open. They don't have prejudices, aren't worried about people who are different, or foreign. Young people are here, and they're listening."
A light comes into Maya's eyes as she recalls presentations she's given in schools in La Cité-Limoilou. "We did activities about immigrants' life experiences. The audiences asked all kinds of questions. They were curious. 'What was life like in other countries?'"
She breathes in, and smiles.
"We should never underestimate our young people."
---
Maya landed in Quebec City in October 2017.
Along with the rest of her baggage, she was bringing memories of a major revolution and the seeds of new, smaller ones to come.
"In Tunisia, I participated in the education system reform following the 2011 revolution. We told ourselves that it was critical to focus on civic education, on learning to be good citizens. The focus was: 'You exist, but so do other people. You have to respect others, who are different than you. How can we be active citizens and bring about positive change in the community?'"
Her gaze is unyielding, but not hardened. Once again we see the determination that brought her to this historical moment. Her aura as a strong woman, a builder of bridges, an example to others. Then she crosses one leg, and leans over confidently.
"I say to myself: wherever I am, I want to be useful. With my modest experience, I'll be able to help people around me improve their situations, combat prejudice, and especially contribute to respect for human rights."
---
Maya landed in Quebec City in October 2017.
And to the people surrounding her, she brings this experience, this journey. As well as photos.
Like Aram Tomasian, in Une bête sur la lune, Maya is passionate about the way photos capture a moment in time. "I'm a photography buff. I document everything." When my parents came to visit me, I said to them, 'Listen, there's such and such a photo in this album, bring them back to me.' My mother's said 'I'll bring you the albums, you choose what photos you want.'
Maya kept a ton.
"Memories are life."
Which is how we find ourselves, in 2020, in front of the camera for Foule.
Everything Maya does is part of a story – a wonderful story of human dignity.
One always illuminated by that sideways glance, to check that others are doing okay, wanting for nothing.
---
Maya landed in Quebec City in October 2017, in many different ways.
To help her host country.
To understand her country of origin.
To find new revolutions.
To remember. To love.

To continue to grow and help others grow.
What else could we expect, of a citizen of the world.
Back to the mural