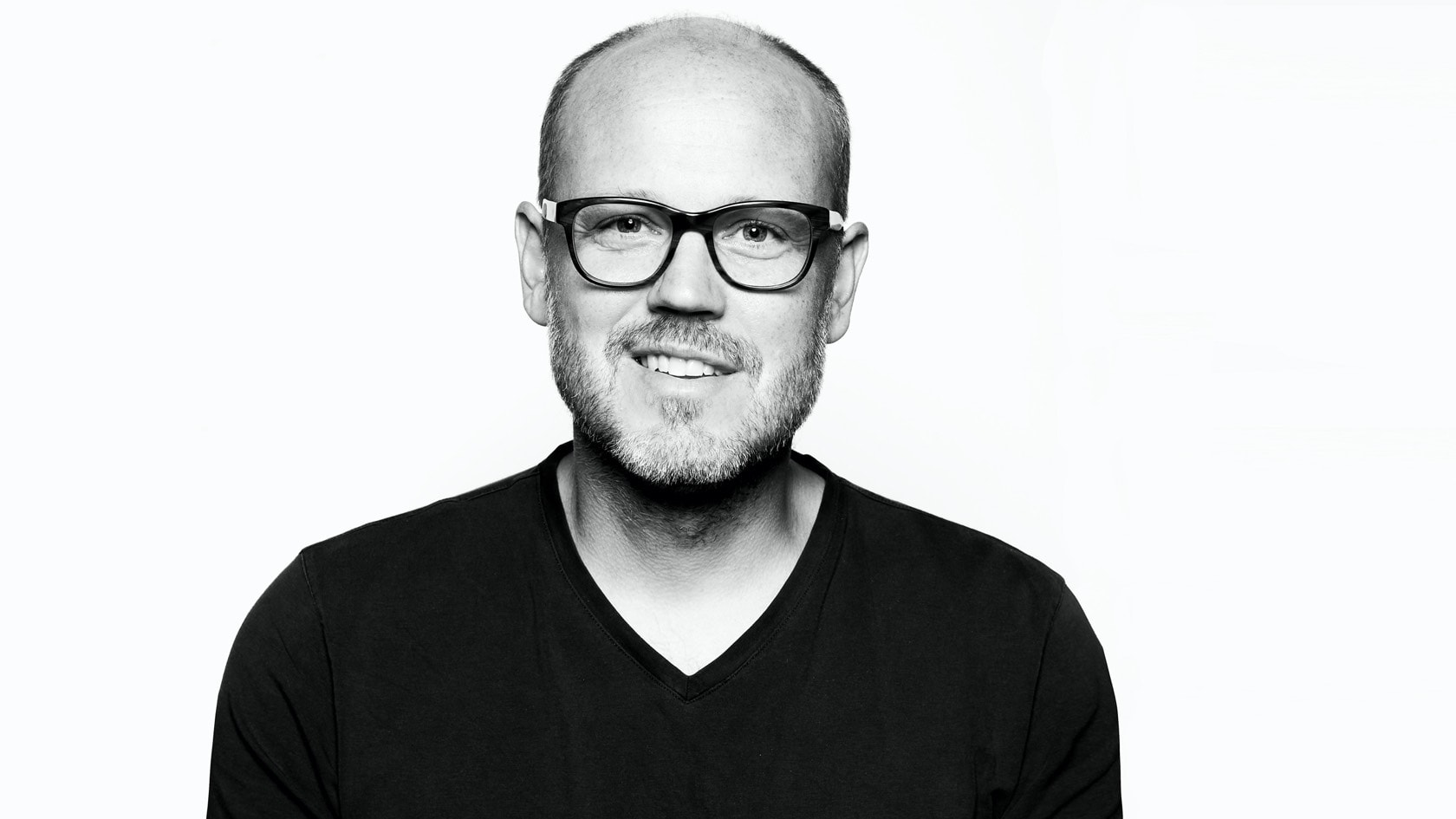 Olivier
Something about Olivier makes him look a little like a comic book character.
His chunky glasses draw your gaze straight to his light-coloured eyes.
His crooked smile and trimmed beard seem to be painted in quick, bold strokes.
He's the type of character you might follow in a series of graphic novels.
And when he talks, he conjures up places, like full-page illustrations.
"Rue Champlain, behind the Club Sandwich.
Aix en Provence.
Rue Fullum in Montreal. Rough neighbourhood!
Sillery.
UQAM.
Queen's University, Kingston, Ontario.
I lived on St-Hubert near Mont-Royal. You know, where it curves a little?
And Guadeloupe: Heaven on earth."
Because, beyond the place names, it's the people who stand out against the background. Olivier has a gift for connecting with others. He's constantly reminding himself that you have to come out of your cocoon to appreciate the complexity of the society we live in.
"That's the one thing I miss about Montreal: the mix of people.
I mean, Quebec's pretty homogeneous. Everyone buys their clothes at the same store, Simons!
Sometimes it seems like it's not real life.
When I feel the need for something a little different, I spend a few hours in St. Roch. You see all kinds of people there. It's a great feeling!
When I have time, I sit in the front window of my coffee shop, Brûlerie Saint Roch, and watch the people passing by. I try to guess what everyone does for a living."
Framed by the cafe window, he takes a break from his responsibilities as a lawyer and a father, to sit back and watch the city's wheels turning.
Until a new "bat signal" lights up the sky. Then it's off to fight the next fight.
To be continued…
---
The son of a defrocked Jesuit priest, a passionate cook, a music and comics fan, a world traveler: it's easy to see why Olivier says he's "not your typical lawyer."
He was headed for a career in the diplomatic services. After earning a bachelor's in political science at Université Laval, he began a master's in the same field, at UQAM. But two planes in New York would change Oliver's course.
"September 11 overthrew the entire geopolitical order. My master's project was no longer relevant."
He started taking evening law classes at the Université de Montréal, out of necessity at first. "I told myself, 'I need to find a job. I'm 28. I have to earn my living. And in law, I can be useful.'" But Olivier soon found connections between the legal profession and his interest in political systems.
"I always keep in mind that, as a lawyer, I play a part in our democratic system: to protect the rule of law, promote the public interest, help avoid conflicts."
"Before, people would just go out and stab each other, settle their scores with their fists, or what have you. Our job is to prevent all that: we act as a sort of mediator, to settle disputes."
Olivier's determination took him to Kingston, Ontario, where he studied Common Law. His sense of justice, and intrinsic need to "do good in the world" attracted notice: a Montreal firm spotted him in his second year of law school. He worked there for a year and a half.
The next chapter in Olivier's life was darker. Between Kingston and Montreal, his back pain took hold.
"I thought it was a herniated disc.
I was back in Quebec City for Christmas.
And I was in so much pain! I was all sweaty.
My dad thought, 'Something's not right.'
He sent me to do an MRI."
"In the end, my doctor in Montreal broke the news. 'You have tumors in the spine, in the spinal cord.
Go to emergency right away!'"
"I started shaking. I started crying. I had no cash, no car. I thought about taking a taxi, but in those days they didn't take credit cards. I had to go to an ATM to get twenty dollars. There were no cell phones then, no nothing. Just pagers! I had no way to reach my girlfriend, or anyone else.
Finally I called a friend, in tears, to come pick me up."
"I ended up in emergency. And spent 21 days in hospital."
"They eventually figured out what I had. It's called a myxopapillary ependymoma.
These are benign tumors that can grow out of the tissue where they originate. They move around in the cerebrospinal fluid, and mess up your nerves."
"They cut open my spinal cord.
I needed a very long recovery. I had lost all feeling in my legs. I was freaking out. I thought I'd never walk again.
After that, I had radiation treatments – 31 in total.
It took eight months or so to get functional again.
All my hair felt out."
"To this day, I still have problems.
Chronic fatigue.
Anxiety.
Since 2007, I've needed a testosterone injection every three weeks."
Today, Olivier can speak of this difficult period with a certain detachment. But the injustice of this situation gave him energy that he harnessed to fight the injustices faced by others.
Eventually, he would get back to normal life, leaving behind Montreal and the many challenges he'd faced there. In 2008, Olivier turned the page on his old life and began a new chapter.
"On Monday, my Montreal law firm let me go.
On Thursday, I had a new job in Quebec City.
And on Sunday, my son Alexandre was born.
It was a hell of a week!"
---
Thirteen years later, Olivier is still working as a lawyer at Therrien Couture Joli-Coeur.
"2 years ago I made partner. I'm a litigator, specializing in civil and commercial litigation."
Olivier raises a finger before you have time to get the wrong impression. It's nothing like on TV. You don't spend all day in court.
"It's a whole lot of phone calls and emails".
Especially since he always does his level best to avoid lawsuits.
"Usually we try to sort out problems before getting to the lawsuit stage. For one thing, it just costs a fortune."
But his clients don't see all the efforts he puts into each case, which means they often have a hard time understanding the total on the final invoice.
"One in four clients will try to bargain. It's frustrating.
I feel like telling them: "When you go to the dentist, it's expensive, but you still pay."
The work I have to do is time consuming – reading everything, drawing connections, establishing the facts, digging through the case law to find arguments that hold water. It's no secret: to win a case, or get your client the best possible settlement, there's no substitute for putting in the time."
Because when the parties can't settle out of court, Olivier has to go before a judge. That involves more work, which of course costs the client more. And while he does everything in his power to avoid it, he's not afraid to go to court when he has to.
"Making arguments in court is actually the funnest part of the job.
It's challenging because the judge asks a whole bunch of questions.
There's an adrenaline rush. After a court session, you're completely exhausted. Just done."
"I had one case where the client bought two commercial properties on Arago Street, in Quebec City.
It turned out the buildings had been sold with bogus commercial leases.
Basically, the seller had arranged with friends to make it appear that there was a business operating in the buildings.
We went to trial.
I proved that the defense was inadmissible.
They were clearly lying. Nothing added up.
And I managed to get my client's legal fees included in the settlement. It didn't cost him a dime.
As far as I'm concerned, that's more than 100% success."
Because for Olivier, it's not about the money or the precedent: connecting with people is the heart and soul of practicing law. That's why he donates his time to pro-bono causes he cares about, from advising Quebec's food retailer association to defending the rights of theatres to smoke onstage.
"Helping people is wonderful. There's nothing more rewarding. If I was independently wealthy, I'd choose my own cases and every one would be pro bono."
---
Once he turns off his phone and computer, Olivier goes back to his other roles – father, friendly neighbour, loving partner.
"I met my girlfriend at the end of my bachelor's degree. And she's still my girlfriend. We've been together 22 years."
No matter where he goes, Olivier is always the same guy. Always trying to find ways to do good.
"Say you're driving along and you let someone pass you. They wave, say thanks. Now imagine if everyone did that. The world would be such a better place."
"I like sharing. Like, I'll take tomatoes and herbs over to my neighbour, when I have too many. I give people advice about hidden defects in sales.
I think it comes from my father: he's pretty much a saint!
A serious scholar, and just the picture of kindness.
He'd lay down his life."
When Olivier finally takes a minute for himself, he likes to turn another page, take refuge in an alternate reality.
"When I want to treat myself, I buy comic books.
I always keep an eye on the comic book websites.
When I see something good I order it from my bookstore.
Now my bookstore even calls me with recommendations.
I have my favourite comics authors, script writers, and artists.
I could easily buy 15 comics in one go!"
As in everything, Simon is passionate, meticulous. His love for comics and graphic arts is a ritual, marked by his deep respect for the works he devours. His collection overflows with books, screen prints, wood panels, paintings, Chicano art.
"I'll often read two pages, then come back to see the drawing, to appreciate its quality."
We can imagine him, putting his glasses back on, never missing a beat of the stories that take him to new places and lead him to cultivate new experiences and nourish his empathy for others.
Until, once again, a new signal crosses the sky – or, more realistically, his phone.
The next chapter? We'll see when the next comic book comes in.
Back to the mural