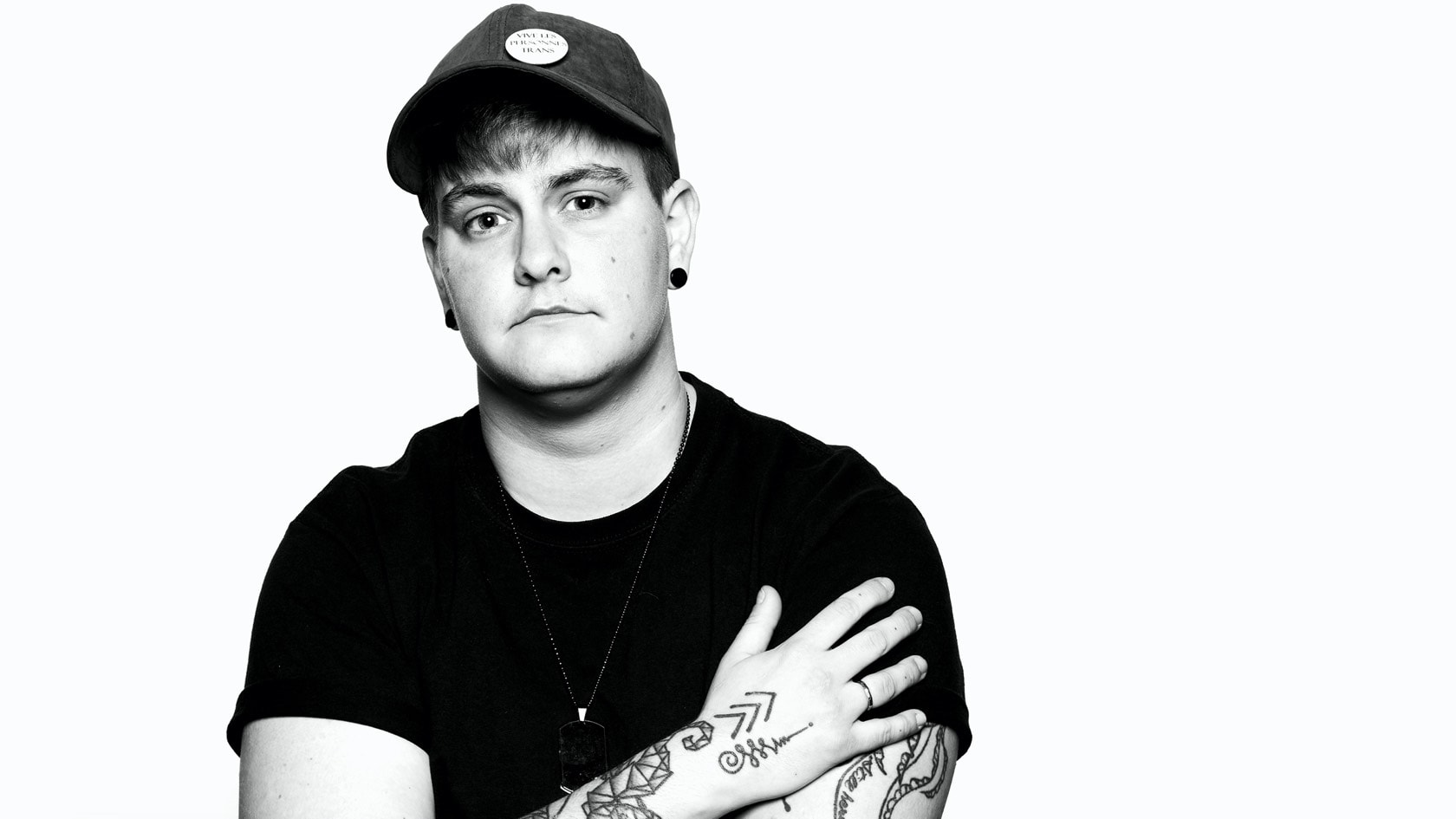 Mykaell
"I sing now. Before, I never used to sing."
With an arm full of tattoos, hazel eyes, and the hoarse voice of a crooner, it's easy to imagine him on stage. The audience hanging on his every note. On the theatre walls, in big letters everywhere: Mykaell.
It might make him proud. After all, he chose his new name himself.
"Choosing a new name is all well and good. But it has to be something you can use! Something where when somebody calls your name, you turn around."
When he laughs, the trans flag button on his baseball cap shakes.
How do you know you've grown into your new name? Easy: the Starbucks test.
"If the barista calls you and you don't turn around, well..."
---
Mykaell used to go by another name, and a different presentation. At birth, he was assigned a different gender: female.
"Until I finished elementary school, it wasn't really an issue. I could dress how I wanted, choose the toys I played with." No one cared that he preferred Jurassic Park to Barbies. But in high school, problems reared their heads. Starting with the uniforms."
"For girls, the only choice was tight-fitting polo shirts. Ridiculous! We had to fight hard to get more choices. The year after, change came. I could wear the guys' polo. It worked for me."
That wasn't enough to make people stop making fun of his unshaven legs, deep voice, and the appearance of an Adam's apple. And tomboys, or girls who presented as too masculine, were definitely targets.
At the school dance, he figured he may as well "throw it in their faces": a coral-coloured gown with straps, a big bouffant hairdo, fake diamonds, heels. "I was hot, right?" he says, laughing. All that was missing was his date. Vincent. When the courage to finally ask had been gathered, Vincent hesitated. "C'mon man, you're like one of the guys!" That one innocent comment cemented what had been building up through years of bullying and sneering. "I put an end to everything that was masculine in me. It was like I gathered up everyone's hatred of me and internalized it."
Mykaell carried this hatred around for years. "When we came across masculine girls, it amplified my self-hatred. To the point where I told my girlfriend, 'If I ever look like that, give me a slap. Kill me.'"
Today, Mykaell has learned to name the rage he felt then: internalized transphobia.
---
While living in Montreal, the knot inside began to loosen as Mykaell was exposed to different ways of being in the world. But gender remained a taboo, even in his own mind. "I kept telling myself, 'I don't think I'm trans.' Of course that didn't stop me from checking out trans folks online!"
Then there was the time at H&M.
"I'm in there, and it's like, 'Damn, guys' shirts are so nice! How come I can't just…' The person I was dating just looked at me.
"'You know, it's just clothes, right?' she said. 'Go for it.'"
"I was like: 'Shit, are you crazy?'"
I had never crossed over into the men's section of a store.
"She pushed me, though. 'Get over there.' I was freaking out. When I got to the changing rooms to try it on, I thought, 'For sure, the salesperson is going to see that this is for men. And judge me. Someone is definitely going to say something.' Nothing."
"I went into the changing room, tried on the shirts. Everything was totally fine. I bought the shirts.
I pretty much wore those shirts 24/7."
The bathroom shelves gradually filled up with men's items: soaps, shampoos, colognes. And just as gradually, questions returned. Mykaell's relationship with his body changed.
When Mykaell moved back to the Quebec City region, he got involved with GRIS, an organization that works to demystify sexual and gender realities with school visits and other outreach. It was a welcoming environment where moving at your own pace and taking risks was encouraged. "When I expressed reluctance, they were understanding. 'You don't have to take hormones. You don't have to have surgery. You can take your time. Start off by asking others to use male identifiers. And if you don't like something, don't do it. No pressure.'"
Mykaell asked his girlfriend to try calling him "he" sometimes. "As far back as I can remember, when I got compliments – you're pretty, you're smart – I'd be like, 'haha, thanks.' It didn't do much for me."
"But the first time someone called me a handsome man, it was like... Like you've been wearing a raincoat your whole life, and suddenly you get to take it off. And you actually feel the rain for the first time!"
"I remember we were getting ready to go out. I had put on a shirt and tie, was getting ready in front of the mirror. My girlfriend was leaning against the doorframe. She said:
"You're a handsome man."
"It was like, BAM! My heart exploded. My legs were noodles."
"I was like: my God, is that what compliments do? I had no idea. I'll take more of that, please!"
He laughs.
---
Now, Mykaell is pursuing his transition, bringing his body in line with what he knows to be his true gender. He recognizes himself in mirrors, and loves the image he sees looking back at him.
"You know, when you realize people were giving you a hard time because you had a deep voice. And now you realize you love your own voice. And it's even deeper. That was my story."
"I sing now. Before, I never used to sing."
Instead of taking to the stage, Mykaell is inspiring others by getting up in front of classrooms, doing presentations with GRIS.
Mykaell explains to students that the changes he's made are a way of bringing out the person who has always existed inside him. "That's what we're trying to make society understand: a trans person isn't becoming a different person."
"Imagine a can of carrots. Except it's been labelled 'peas.' You know? A trans person is the same thing: maybe she's always been male, but society just assigned the wrong label."
One thing is critical: everyone has to take it at their own pace.
"That's really something I'd love to see more of, out in the world [TV, advertising, etc.]: people taking their time with their transition. Just people taking the time to ask questions, instead of rushing into it headlong... It's important to talk about the during, not just the before and after. Because you're going to be transitioning for a while. You have to accept that these journeys take time, and everyone's experiences will be very different. And let's broach the subject of body diversity, so people won't be in such a rush to have surgery, which is no magic solution."
At the end of the day, Mykaell wants us to break away from the stereotypes we apply to those around us, to better appreciate what's unfolding inside. Everyone is in constant evolution. They can always change again. It could be a career change. It could be a transition. It could be a woman who has always been in relationships with men, and out of nowhere falls head over heels in love with a woman.
"All of those are good options."
And he smiles.
Back to the mural