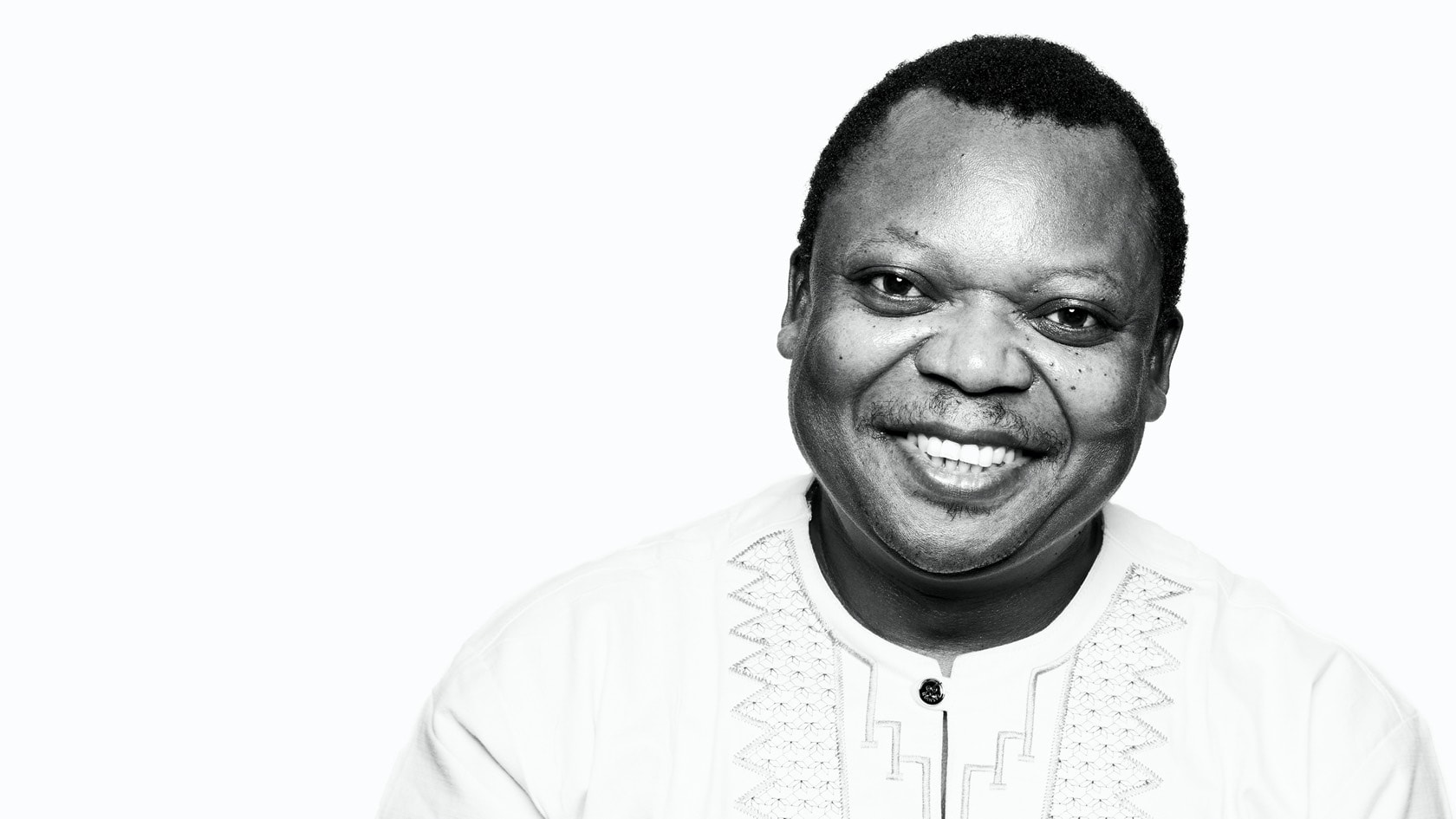 Faustin
After living in Congo, Central African Republic, and Chad, Quebec presents its own particular challenges to Faustin, his wife, and their eight children.
A new culture, new values, new environment, new house, new cold winters: anyone would find it disorienting. Fortunately, openness and adaptability – the hallmarks of this tight-knit family – have equipped Faustin's family to adjust to Canada's exotic strangeness with equanimity.
"We found it a bit odd. But we would see everyone else doing a certain thing, so we just went with it."
Luckily, there have been allies supporting them, to help them quickly find their feet.
"People have helped us a lot. All our neighbours. And an organization in Quebec City, the multiethnic centre, that kept phoning us up and giving us advice."
Faustin has been able to continue his studies and find a job as a cleaner, in Quebec's Parliament Building and in the suburb of Saint-Augustin-de-Desmaures. "I've been cleaning there for about a year. I like it. Two of us are Black, and four are Québecois. We get along well, we're pretty close." »
But this isn't Faustin's long-term plan.
"I've always dreamed of one day being able to help others.
Because when I was in the refugee camp in Amboko, I saw how people from Europe would leave their homes to come help us there.
They would buy notebooks for the children, and give us food.
It was really wonderful to get to know them."
His gestures are gentle, thoughtful.
His only quirk is the way he fiddles with his car keys.
In 2017, Faustin's dreams of helping others led him to found an organization, the Centre social d'initiative pour le développement integral [centre for social initiatives for comprehensive development]. The group supports new arrivals as they learn the ins and outs of their new environment.
Using an oven or a western toilet, storing food safely, and keeping a house clean are parts of a skill set very different from that required in a refugee camp in the bush, where human ingenuity is focused on the practicalities of survival. But in Quebec, a messy house can lead to financial, social, and health problems for immigrants. Faustin wanted to address this problem so his neighbours could enjoy an easier future. Now assisted by fifteen other volunteers, he even helps elderly and visually impaired immigrants keep their homes in order.
When he breathes in, his chest puffs out, pulling up his boubou – a Congolese gown, which he meticulously embroidered himself – and making his smile widen.
"This is my way of giving back, of saying thank you to Quebec."
---
In October 1968, in the Democratic Republic of Congo, Faustin was born into a large family of seven children. His father worked as a mechanic for a car company while his mother cared for the family. Here, in the lush landscapes and pleasant humidity of Équateur province, is where Faustin developed his ingenuity and openness towards others. These would serve him well as he charted his future in an unstable country.
"My life in the Democratic Republic of Congo was quite difficult.
The politicians didn't really care about taking care of people.
I had relatives whose salaries would be suddenly cancelled. They might go two or three months without being paid.
When this happened, the family had to come up with ways to find enough food from one day to the next.
This had a big impact on young people, who were at risk of becoming street kids or delinquents. Because there was nothing else for them to do.
They would join the army, because they knew that was the one place where they would get a bit of money. The only thing the government put any resources into was the army."
But Faustin's father was determined that his son should avoid that fate: he kept him in school as long as he could.
"I started to study, study, study.
When I was 20, the company my father worked for went bankrupt. He couldn't keep supporting me without a job."
"My studies had come to a halt. Thanks to a relative who agreed to train me, I began working as a tailor."
With dedication, his new job helped him develop skills and save up a bit of money. It also got him noticed.
"A Congolese gentleman came to our town looking for a tailor. He'd heard about me, and wanted to see examples of my work.
He invited me to come to the Central African Republic to work for him.
I said to him, 'Sir, I accept. I can't make money here. I will move to your country.
But give me a month to finish up the orders from my customers here.
Then I'll be ready to leave."
Faustin settled his accounts and, more importantly, his plans with his fiancée – a student and manager of a small shop – so they could reunite in the Central African Republic. Fortunately, the Congolese gentleman took care of them: he had brought some goods with him that she could sell to support herself until Faustin could bring her across the border.
Two months later, Faustin had enough money for a dowry, and she came to join him ("Dowries are still expected for us. I sent them about 100 US dollars. It was a lot of money. Over there, 1,000 dollars will feed you for ten months.") They were legally married at city hall, and their families crossed the border for the occasion. "And did we ever celebrate…"
But once their families returned to Congo, Faustin and his fiancée knew it would be a long time before they saw them again: an outbreak of hostilities closed the border. Soon after, conditions in the Central African Republic began to deteriorate.
"I spent 18 years there.
War broke out. Not once but twice."
"The first time, there was a coup d'état, and all that rigmarole.
The president who'd been in power had called on rebels from Congo to come help him out. They came to the Central African Republic and massacred the opposition.
The other side left. The president was the one who stayed."
"But though they pulled back, their numbers grew, and they returned to kick out the Congolese rebels. That was the second war.
So then the Congolese people who had settled in the Central African Republic, we became targets. People said, 'Your relatives were the ones who came here to kill us. We chased them off and they're gone, but now you Congolese who are left behind need to pay for their crimes.'
There were accusations against the Congolese.
Racism was everywhere.
I said to my wife, 'Let's get out of here.'"
---
Faustin, a respected tailor and father of eight children, was able to get a safe-conduct pass allowing his family to leave the country, along with a caravan of thirty-eight families.
"We went to the Republic of Chad.
The way I thought about it was, I would go north and get into Egypt, then from Egypt I would go as far as Jordan. I had a friend there who told me that if I could get to Jordan, we could have a good life."
The route was a long and perilous, and unfortunately, it didn't lead Faustin where he'd hoped.
"Once we got to Chad, things fell apart."
"They took us, and said, 'No, you came here and there are so many of you, you can't wander around. You're refugees.'"
So they were sent to a camp filled with Central Africans who had also fled the war. Worried that they would once more be the target of persecution, the families in the caravan negotiated a compromise: a piece of land in the country, reserved for the Congolese.
"We lived in squalor from 2010 until 2015.
The housing was bad.
I was able to get a house made of earthen bricks.
It had a dirt floor. We dug out spaces for our beds.
If we had enough mattresses, we could sleep on them.
I made a request to the High Commissioner for Refugees [UNHCR].
They gave me a sewing machine.
That gave me something to do."
The UNHCR, which organizes and supervises the camp at Amboko, also provided basic staples: rice, beans, salt, soap. It you wanted meat, you had to get it yourself. Fortunately, Faustin, who had ten mouths to feed, was able to amass a decent quantity of food. There was even enough to share with others: "For the other families, if their supply ran out before the end of the month, I would help them." This drew the notice of the High Commissioner: "They started to make inquiries about us. If a person had a good character, they might get permission to settle elsewhere."
---
"One day, the High Commissioner came, with all their staff.
They said, 'All right, you've come here, to this place outside the refugee camp. This was a privilege we allowed you. This area is meant to be farmed.
We want you Congolese to start cultivating the fields.
We can give you food, but not forever.
It might stop coming.
But if you learn to raise your own food, you'll have gardens, with green vegetables and so on."
Hackles went up instantly: former townsfolk and white collar workers had no interest in working the land. "If you want us to work, give us jobs." All thirty-eight families refused.
All except Faustin.
"I raised my hand and said, 'No. I have children, lots of them. I can't always be looking for a handout. I want to start farming.'"
"The next week, they took me to the field and gave me what I needed – seeds, peanuts, corn.
I rented oxen, a plough, and a hoe using the 200 dollars the UNHCR gave me. I started with one hectare which I divided in two for corn and peanuts.
Every year I farmed.
And every year, my friends came to help us with the harvest.
I gave them a portion of my peanuts and corn, so they would have something to eat.
The High Commissioner for Refugees said that I had shown courage and dignity.
They understood that they could entrust me with something and I wouldn't stand there twiddling my thumbs."
---
After four years of patient work, of sun, and dirt in the creases of his hands – hands that had once been so deft with needle and thread – something new started growing in his field.
"One day they called me to come into the office and asked, 'Are you able to travel with your family? Canada is looking for people, especially in Quebec. We would like to put your name forward.'"
He told them yes. He had four days to pack their things – in secret, so as not to arouse jealousy. Faustin's meager possessions went in his suitcases to bring with him, but the war, the uncertainty and exile, he would leave behind.
He looked around at his wife, his eight children, and his field, and he gathered all the courage, hope, and selflessness that had enabled him to cross distances of sand and blood.
For his last act on Chadian soil, Faustin divided up his cultivated land among the other refugees. So that they could go on reaping the fruits of his labour, even after he was gone.
As if helping was the most natural thing in the world.
On August 9, 2015, an airplane climbed up into the Chadian sunshine.
Back to the mural