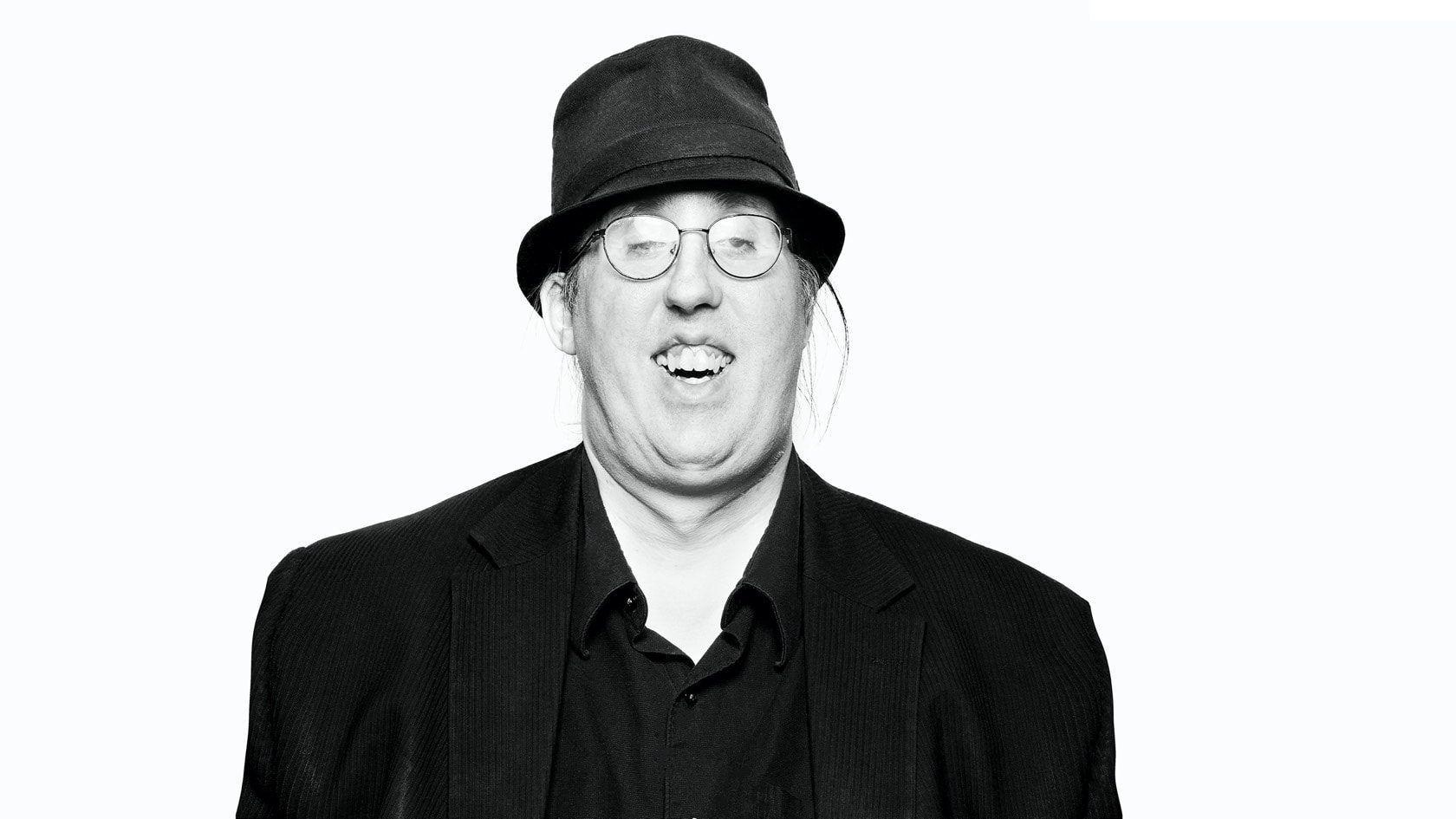 Jean-François
"Sometimes you'll hear someone say, 'Who's Jean-François?' And someone will answer, 'That's Mr. Get-Involved!'"
Jean-François smiles unselfconsciously as he adjusts his jacket. Dressed to the nines in a nice shirt and matching hat, he knows the impression he makes. The poise of a professional actor shows in his demeanour.
"I've been with Entr'actes since 2005. I do workshops on production design and artistic performance.
I've been on the board since 2013.
Plus I'm on the users' committee, representing the board.
That makes me the point of contact between the board and my fellow actors."
Entr'actes is a cultural organization whose mission is "to develop, create, and promote unique art by people with functional limitations in collaboration with the whole community."
Sure, there was a time when I used words like 'handicapped.'
But now I've played opposite people with Down Syndrome, or with Asperger's.
Some of our people use wheelchairs, or walkers."
He grips the head of his cane as he speaks.
"'People with functional limitations' is a pretty broad category."
Out of these diverse realities and experiences grows an art that is both rich and riotous, that provokes and unsettles. Small wonder that Entr'actes tours all around Quebec and partners with varied institutions in the capital and the surrounding region.
Once you start playing in the big leagues of theatre, the perks of celebrity are often not far behind.
"One year we branched out into film, working with Kinomada, a film production organization.
Between October and May, I must have given sixteen interviews!
That's something I've never experienced before!
Then, two years ago at our Annual General Meeting, I was named spokesperson for that season's fundraising campaign.
It took me by surprise. I thought it was just going to be an ordinary meeting.
I was like, 'Wow, thanks for the warning, folks!'
I was so proud."
He raises his eyes, like the sweep of a spotlight.
---
"I learned everything on the job.
Entr'actes' artistic director saw potential, and asked me to join the troupe.
While playing different roles, I discovered I had this talent for bringing characters to life."
After more than sixteen years honing his craft, there's little Jean-François can't do: act, sing, improvise. He now has a number of professional productions under his belt, including Le Petit Prince, Tu m'aimes-tu? (which toured Quebec from 2007 to 2009) and Hiéroglyphes (performed at Quebec City's Carrefour international de théâtre in 2015).
In April 2020, he was cast in the play Ailleurs que maintenant for the role of Normand Bilodeau, an astronomy-lover shaken by tragedy, who wishes he could set off into outer space. Jean-François had an active role in developing the play. He took part in exercises and artistic experiments with the group, designed to awaken the Normand slumbering within.
"We started out with improvisations, to help the director capture the tone or the subject of the piece.
For Ailleurs que maintenant, we already had our leitmotif. A 'frame' for the characters. Then each of the actors was assigned a colour, given certain mannerisms… We chose their wardrobe. Next, we put those characters in all kinds of situations. That's how we generated the raw material for writing the script."
Of course, the pandemic put the production on hold, possibly indefinitely. But Jean-François still carries a part of that work with him.
"Just like my character in Ailleurs que maintenant, I've started watching shows about other planets! I love Le Petit Astronome – and it's even hosted by a French guy who has Asperger's! He does a wonderful job explaining the science for laypeople. And it was really Normand that gave me a taste for the subject. It's the first time that I've felt a character's personality start to bleed into my own."
And it doesn't just colour his personality: Jean-François leans in and lowers his voice to tell me how acting has given him strength in everyday life.
"Certain traits from my characters give me strength to navigate my day-to-day. It's fair to say that theatre has helped grow my self-confidence."
Out of his passion, he's developed a craft that nourishes him.
---
Of all the tongue-twisting lines and cues he's had to memorize in his time on stage, there is one phrase has followed back him into the wings, out of the theatre, to his home.
"Steinert's myotonic muscular dystrophy."
It's a degenerative disease, inherited from generation to generation, in this case mother to son. The odds were 50/50. "My brother and sister were very lucky, they didn't get it. I was the one it hit!"
Jean-François's laughter is free of bitterness.
"It weakens my body. The muscles atrophy over time.
So for example, I can't stand for long periods.
In 2019, I fell and broke my ankle and the lower part of my tibia. It was the stupidest thing, when I was getting off the city bus. Just a hop down to the curb. I've done it so many times before, without thinking. But this time was a calamity.
The clinical physiologist from the insurance company told me the effects would be permanent. That meant I couldn't jump, I couldn't run.
That's why I have to walk with a cane."
His whole life he'd known something wasn't quite right with his muscles ("There's a delay between the moment I start to apply pressure and the moment my fingers finally open"), but he had to wait until adulthood to know what it was.
"We could have gotten a diagnosis earlier, but my father wouldn't allow it.
My mother knew something was wrong.
When I turned 18, the doctor stuck some needles in my wrists and said, 'Right, so that's what you've got.'"
But Jean-François remains sunny and kind-hearted, always able to see the bright side of everything.
"This will sound strange, but whenever I'm on the city bus, I kind of like it when people offer me their seat.
Or when the driver lets me sit in the special seat up front.
When that happens, I tell them how thankful I am that they cared enough to pay attention.
There are people who are less polite, sure, but I don't get angry. I just make sure that the ones who give me their spot know how grateful I am."
And his visits to the neurologist and the cardiologist have yielded some victories.
"In the cardiology department, it was great!
She said my heart was a tiny bit weakened, but nothing major.
She gave me some pills as a precaution. And – this is pretty rare, but I was a special case – they actually worked. My heart got better!"
Sometimes the magic happens after the curtain falls.
---
When the theatres re-open and the curtains rise again, Jean-François will be busy on both sides of the footlights, both waiting eagerly in the audience for the actors to appear, and then taking to the stage for his own apotheosis. Until then, he reminisces about watching Matéo et la suite du monde, by the same writer as Ailleurs que maintenant.
"Jean-François Lessard's style is so distinctive!
There were actors in our troupe who were part of that production. Mathieu, for example, is a great actor.
The play was a bit disorienting for me. But when I re-watched it, I discovered things I missed! You have to understand that Matéo is very dark, it's a portrait of a disturbed character.
Ailleurs que maintenant has the same style – jumping around in time and everything – but it's more joyful. It stays in a poetic, human register."
Anticipation for his play has Jean-François vibrating in his seat. His flame burns hot and he's ready to dazzle the crowd.
Back to the mural