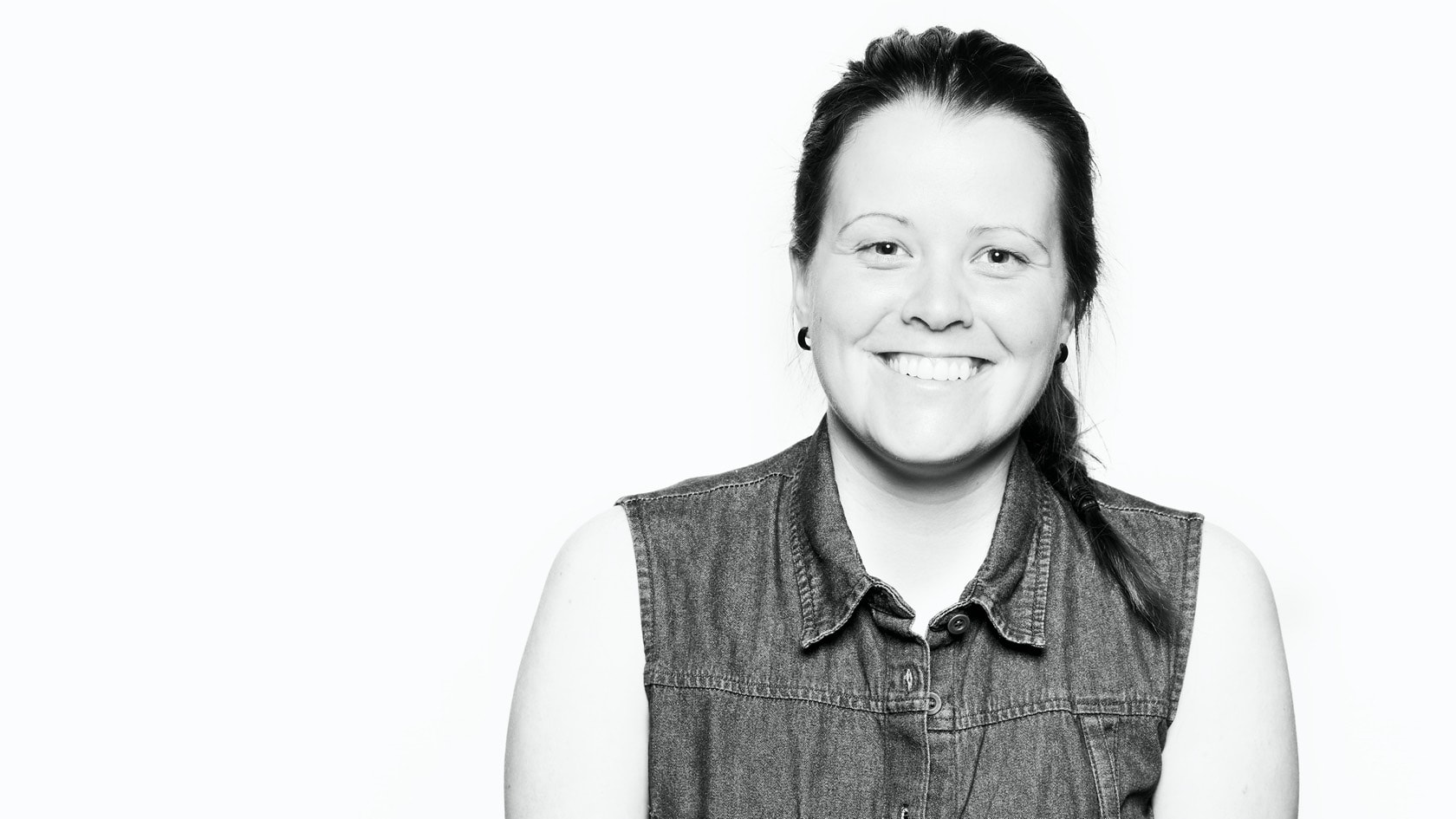 Marie-Pier
"Sure, I've got friends who aren't in the army… So I recruit them!"
As Marie-Pier laughs wholeheartedly, with a refreshing, childlike joy, she unconsciously tousles her braid of red hair, fingering the strands like a musical instrument.
When she catches her breath, she admits, with a wry smile, that enlisting in the Canadian Armed Forces was no spur-of-the-moment decision.
"Basic training is actually pretty horrible!
The goal is to put you under stress.
They say, 'Okay, five seconds to get your gloves on!' So then you're fumbling to put on your gloves, but you can't do it! Just because you're so nervous!"
Years later, the tables were turned and it was Marie-Pier's turn to be the instructor. That's when she understood how this brutal welcome to the army served to prepare new soldiers for survival situations.
"It seems intense, but you have to think about the real-life context. When you're out on a mission, you're taking risks. If just putting on your gloves makes you stressed… well, imagine a real situation! You have to learn to deal with pressure."
"That doesn't mean I didn't have trouble when I volunteered to give the course, to get into the role. Yelling at people isn't my idea of a good time.
I could hardly believe what we were putting those people through.
All that pressure.
And you know, they're trying so hard to do well."
Seeing both sides of the coin puts her experience in perspective.
"I realized that back when I did basic training I really thought it was hell. And now, seven years later, I'm like, 'Wow, that was a piece of cake!'"
That's likely because, on top of her life in the army, Marie-Pier is devoted to a passion she claims is even more demanding.
She studies the clarinet at the conservatory.
---
"In high-school, I tried my hand at everything: not just theatre, but music too."
"Every month we would put on a show – the teacher was super keen.
I played bass, piano, saxophone.
I'm not saying I was good, but in those days I wanted to try everything.
I remember, my last year of high-school, we put on a special show with music from the rock group Les Colocs. They asked me to play 'Belzébuth', using the clarinet sound on the synth.
And I thought, 'No way! I'm going to learn the clarinet for real!'"
Marie-Pier has always liked to push herself, to follow her gut and see how far it takes her. And her fingers quickly got used to the keys, finding a new form of movement.
"I practised – whew! It was the first time I'd ever spent so much time practising an instrument.
When the show was finished, I thought: 'This is awesome!'
The very next day I looked into CEGEP registration – it was the day before the deadline – and I said to myself, 'That's it. I'm going to major in music.'
I showed up to my audition and I played 'Belzébuth,' because that was the only thing I knew!"
What began as a whim would set the course of Marie-Pier's life: she started down the path of becoming a professional clarinettist.
"It's such a versatile instrument. So many styles.
You don't have to stick to classical music: there are lots of clarinets in jazz, or klezmer. So many possibilities!"
And after a day of practicing, she would trade in her sheet music and reeds for boots and a beret.
"I'd been in the Cadets for a long time.
As much as I love music, I also love to play sports, challenge myself. I did roller derby – I loved putting myself out there like that!
It's very different from music, which involves a lot of solitary practice."
Far from presenting a conflict, her two passions complement each other. The army provides ample opportunity for musicians to play with professional ensembles. Eventually Marie-Pier joined the regimental band, La Musique des Voltigeurs de Québec. Today, she acknowledges that she owes her career in music to the regiment. Without the army, the precarious nature of the performing arts world would probably have been too much for her.
"It's difficult to be a musician, in real life.
When I'm with the Voltigeurs, I don't feel it's just a job.
It's more than a brass band to me: it's also a family."
"A regular gig we do every year is the jazz dance soirée at the Quebec City Winter Carnival. In normal times we pack the hall, with 200 people swing-dancing!
The army has always been a solid anchor for me.
If I have to earn a living, I'll work for the army.
If I decide to study something else, I'll keep working with the army: they'll cover a big part of the tuition.
It really is the best of all possible worlds."
Although it's a part-time commitment – the Voltigeurs are a reserve unit, with reservists called up on evenings or weekends according to need and availability – Marie-Pier's mother had some concerns about her daughter's official enlistment.
"She was afraid because she didn't really understand. But I'd done Cadets, so I had friends in the Reserve. I knew I was going to be a musician, and I knew what I was getting into."
The Armed Forces is a world unto itself. Professions are varied, with everything from snipers to administrative staff, photographers to doctors, and pilots to cooks. And near each army base is a small town where all the needs of life are met.
"In the regular army, they have their own healthcare system, their own dentists, shops, social activities, schools – their own world."
To this day, despite everything, Marie-Pier's mother worries when she decides to study things outside her music courses, fearing that her daughter might be straying toward more perilous possibilities. Or worse, that she will be belittled by the men, who predominate in her workplaces.
While she's never been the target of clearly misogynist or anti-feminist behaviours, Marie-Pier is well aware that she works in a "man's world."
"With La Musique aux Voltigeurs, it was still about 50-50 male and female musicians. But this summer, when I was teaching my courses, I was the only woman in the entire senior staff.
When I realized that, I thought, "Huh." But I felt like I'd found my place, and that my experience as a female musician gave me a valuable perspective."
Fortunately, mandatory sensitivity and anti-harassment training has become the norm in recent years, forcing all members of the military to confront these troubling issues.
And there's Marie-Pier, promoting her vision by sharing stories of the women who've inspired her.
"I'm always excited to tell people about women in the military."
"I don't think people talk about us enough.
It's important because I love what I do, and I would love for other women to follow my path."
The military has also broadened Marie-Pier's horizons, as she likes to point out. Increasingly, her work in Quebec involves responding to environmental and humanitarian crises. And she would love to be deployed close to home so she could help her neighbours.
"I think the army has accomplished lots of good things, especially by helping out during flooding, and COVID. We want to show that we're here to do good, to help people."
"During the first wave of the pandemic, when the army was called in to help in nursing homes, I put my name on the list right away. As it turned out, so did everyone else, so I never got to go. But I got training, and everything.
During the floods two years ago, I also volunteered. I didn't get to go out in the field, but I was in headquarters – we don't get to choose our assignments! I worked as a support staff."
That's when you notice it.
Marie-Pier's hand never quite sits still.
As if it's always itching to go up in the air, eager to volunteer
To rise to the next challenge that crosses her path.
To tell other women who yearn for adventure that they can come join her.
To put her fingers to good use, making a crowd dance into the wee hours to the sound of her clarinet.
Her energy has a powerful magnetism that reconciles opposite forces.
A force as complete and authentic as her beautiful laugh.
Back to the mural