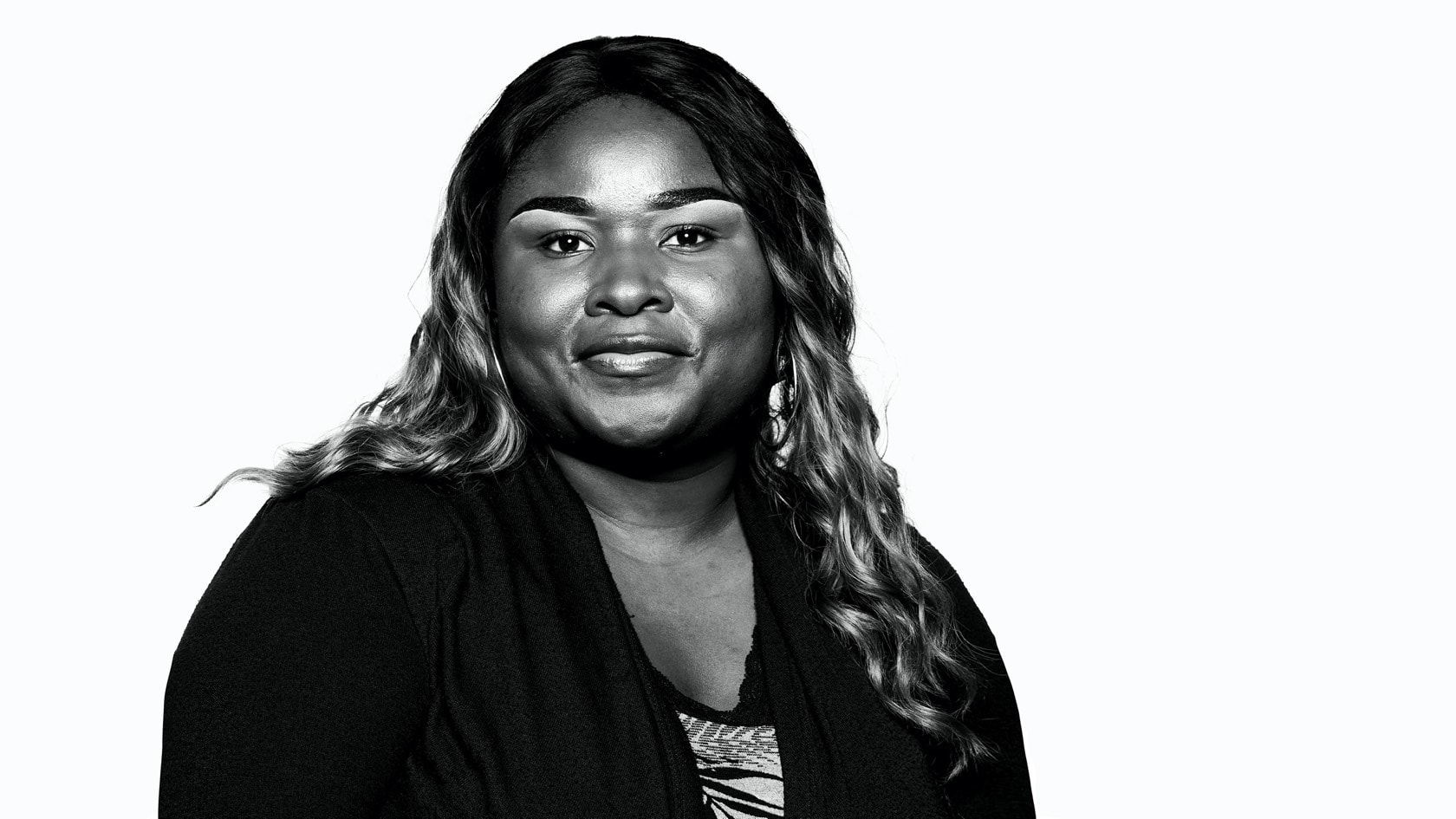 Médine
A gorgeous dress of traditional cloth.
In vibrant oranges, greens, and reds.
It is elegant, sumptuous, dignified.
"This dress was made for me.
It was a gift.
I remember when I was in school. I was always in the top five of my class.
When I did well on a test, my dad would buy me a gift.
I love this dress.
When we emigrated, I didn't want to leave it.
So I brought it to the United States with me.
When I got married, I put it in my trousseau.
When I came to Canada, I figured 'I can't let it go.'
My memory and my story are woven into the fabric.
When I meet new people, I tell them the story of my dress. Why I've kept it all these years.
Best of all, it still fits – even two kids later!"
Médine has a deep, calm voice. Her English is marked by the rhythms of her homeland, and possessed of great warmth. She takes her time collecting her thoughts before sharing them. Her gaze is striking, powerful like an eclipse.
In the background, we hear a young boy and young girl laughing. They are happy, safe.
"My name is Médine.
And I grew up in the Mtabila refugee camp."
---
Médine's parents had to flee Burundi in 1972 due to the civil war known as the "Ikiza" or "scourge."
Soon after arriving in the Congo, they again had to seek asylum in Tanzania.
That's where Médine was born, in Kigoma, before her family moved to the Mtabila refugee camp.
"There were lots of people, from many different countries.
The government helped us. Gave us housing, and beds.
Made sure we went to school.
They didn't want to see children staying home doing nothing.
But even amid great scarcity, in the sand and tall grasses surrounding houses made of brick and plastic sheeting, kids will be kids.
"Oh my God! I had so many friends!
We'd spend all our time running around, playing together!
My dad always wanted me to stay home.
Read books, get good grades.
But I just wanted to be out with my friends
When my dad wasn't home, I'd sneak out and play with them.
When I look back on those times, it puts a smile on my face!"
Sure enough, Médine is smiling now.
Throughout her childhood there was this tangible, solid happiness and human warmth despite the constant threat hanging over her and her loved ones.
"It was hard, because there was no safety.
You never knew what was going to happen.
There were thieves going through people's houses.
They raped people, killed people.
Men threatened to kill my father.
I lost my mother in the camp. I was seven."
As she recalls these traumatic events, Médine remains dignified.
When she says "mother," you can feel a benign presence.
Something similar to the good fortune that let Médine move on from the camp.
The government really was doing everything it could.
They even helped us emigrate to the United States."
---
Médine might have ended up in Sweden or Australia, like some of her friends did. (She hopes to see them again soon.)
Instead she would land in North America.
In Des Moines, Iowa, to be precise. At the airport Médine saw snow for the first time in her life.
"I was surprised. I'd never seen snow in my life!
Sure, I'd heard of it. But that was all.
The person who picked us up at the airport made a snowball.
He came over and gave it to my brother.
I thought it was fufu, ugali.
Ugali is something we eat [a maize porridge].
So when my brother passed it to me, I was like 'What!?!'
I dropped it. It was so cold!
I asked the man what it was, and he said, 'It's a snowball!'"
Médine's face lights up as she shares this memory.
Arriving in the United States with her father was the beginning of a new life for Médine and her family.
Time passed. She got married.
But a new and insidious cold front was rolling in. You could feel it in the looks she got.
"In 2017, after Trump was elected, the mood changed."
I went to the store to get groceries.
My daughter was in her stroller.
And I lined up to pay.
A group of people came up to me and said:
'Go back where you came from!'
'You're not welcome here.'
'We have a new president now. You've gotta go!'
And then they started shaking my daughter's stroller, while she was inside it."
Médine was upset and anxious. But, with her usual composure, she put things in perspective. She knew that not everyone was so extreme. But also that it only takes a few bad individuals to create a toxic social climate.
"I was shocked. Since I moved to the United States, nothing like this had ever happened to me.
I went to talk to the store manager.
They apologized.
But when I got home, someone – I never found out who – had written a message on my door: Go back where you came from.
'What's going on?' I wondered."
Sometimes people mistake violence for freedom.
Médine was worried. She talked to her neighbour.
"She was really nice.
When I told her what was happening, she started crying.
'Why are they doing this to you?' she asked.
You're a lovely person. You've never made trouble.'"
But the current of racist anger spread. Hate seeped into Médine's ex-husband's workplace.
"His boss liked him a lot. He was a hard worker.
But one time, a group of coworkers was standing together, blocking his path.
'You can't work here anymore,' they said.
'You're stealing our jobs.
If you don't go back to where you came from, we'll kill you."
"They had a gun. They had a gun, and they took it out."
"'See that gun?' they asked. 'Come back to work here again, and we'll kill you.'
We know where you live. We know where your family lives.
If we see them around here, we'll kill them.'"
"We tried to report them to the police, but they did nothing.
People told us to try moving to a new state. But in every state, the same things were happening.
That was when I started to fear for my life."
---
"Ever since I was a little girl, in Tanzania, I've wanted to come here. To Canada.
With the situation, we decided to seek refuge in Canada. It just wasn't safe for us in the U.S. anymore."
Médine arrived in Longueuil in August 2017.
She moved to the Limoilou neighbourhood of Quebec City, and got help from the YWCA and the Maison Mère-Mallet, where she lived with her two children.
"They helped us with so many things."
And she already feels at home. She can let her children play wherever they want, without worrying about it.
"The other day, I was walking down the street and a policeman stopped me.
'I just want to make sure everything is okay. That you're doing well,' he said. It made me feel safe."
She feels fortunate to be here, though she realizes life is far from perfect. And she's looking forward to learning a new language – she already speaks Kirundi, Swahili, and English, so what's one more?
"I like living in Quebec City, and I love French.
I'm excited to learn French.
I already know a few basics.
'Bonjour
Comment ça va?
Comment t'appelles-tu?'"
Even with these, her first words in French, Médine is reaching out to others.
Already thinking about giving back. She's not afraid of the hard work she'll have to put in, to contribute to society and live the life she's been dreaming of. Once her immigration status is settled, she's ready to take her place as an active member of her community.
"My dream is to become a doctor.
Be a good mother.
A good example for my children.
And an inspiration for the people around me."
Médine smiles as she shares her story. This year she's sending her daughter to kindergarten. She feels that her move is already paying off.
"I'm very grateful that my daughter can go to school.
It might have been complicated, because her status isn't settled yet.
But they changed the law in 2018.
Now, every child – whether they have papers or not – has the right to free education in Quebec."
She turns around and looks at her daughter, who is hopping over in our direction. Her son is right behind them, sucking on a finger.
Their laughter is colourful. Greens, oranges, and reds, surrounding Médine like a halo, as beautiful as her traditional dress.
Back to the mural