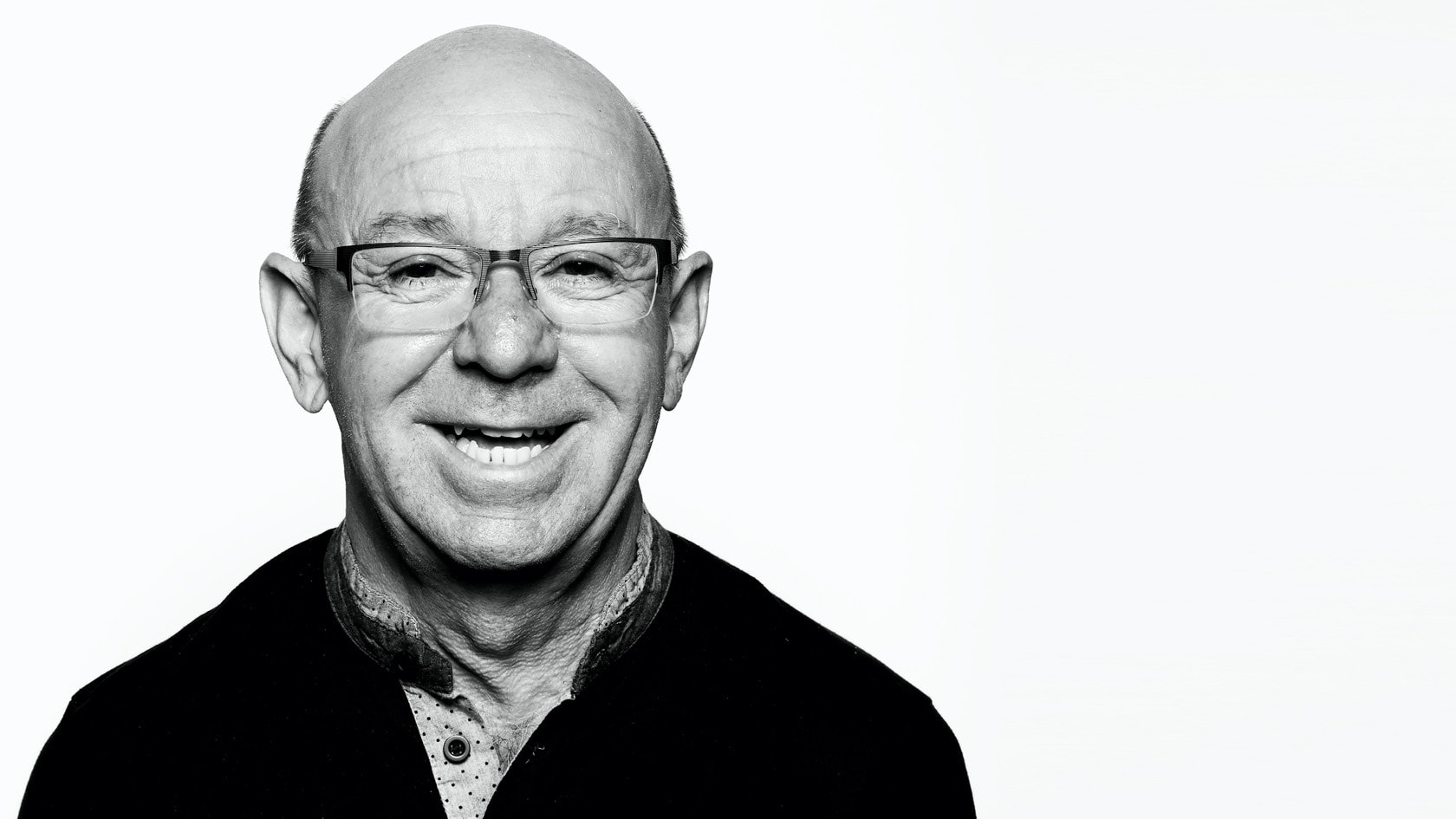 Mario
Carmen, Brenda, Nicolas,
Marjolaine, Nathalie, Yves,
Mme Roy, Mme Picard,
Cécilien,
Daniel, Murielle, Valérie,
Véro, Stéphanie,
Nahm,
Mogélie, Éliane, Rosalie,
Jean, Nadine,
Gilles,
and Gilles.
Mario savours people's names. When he tells a story, you get the "who" and the "why." When he says a name, we can picture their faces, hear their voices. Mario conjures their presence.
It's as if he's constructed his self out of these encounters.
"I'm not afraid of making people feel good about themselves. We're all the same, right?"
"I want the people around me to be happy."
Mario wishes that similar sentiments would shape how he and his fellow nursing home attendants are treated. He wishes someone would make the people who care for our elderly, as Mario has been doing for years, feel valued too.
"We need people to tell us we're doing a good job. Give us a helping hand. You know, show us that they trust us."
---
"We're the doctors' eyes and ears. You've got to listen, and pay attention. Your patients have to know that, no matter how they're feeling, they can trust you absolutely."
Mario comes alive as he talks about his job.
"I'm the unhappiest guy in the world. But the hospital helps me. I get so much out of being here!"
It's surprising to hear Mario describe himself as the "unhappiest man in the world." He's so expressive! Punctuating his sentences with a slap against his thigh, or a fist in his hand, Mario seems almost happy-go-lucky. But to sit and listen to him is a sobering reminder that we should never take anything for granted, never underestimate another person's sorrow. Never jump to conclusions.
Life has never been easy for Mario.
He grew up in low-income housing, the oldest of seven children.
Jobs? He's had plenty: bass player, lighting designer, plumber, slaughterhouse employee, flyer deliveryman.
He's tried to kill himself. Twice.
Like a guardian angel, his grandmother was always there for him. He speaks of her with great tenderness. She would say the same thing to anyone who would listen: "I love him. I don't judge him."
Even when Mario got into trouble, she never wavered. He stayed at her side until the end, visited her in the hospital almost every day. The medical staff adopted him, let him in at any time of day or night. In her final moments he lay beside her in her bed.
Mario's vulnerability is on full display; he is strong and determined as he opens up to us. He unwraps his vulnerabilities like so many gifts. "Let me tell you, I didn't have it easy. That's exactly why I'm happy with who I am today."
---
Mario has had a tough life. But he keeps coming back to one thing: "I love doing what I can."
So he went back to school to become a patient attendant. Of course, every step forward means new obstacles to overcome.
"School wasn't easy for me. I failed seven times."
One day, his teacher gave him a piece of advice he never forgot.
"Mario," she said. "Try to visualize it."
"When I had to read thick books, I'd get lost."
"So one Saturday morning I get up. I drive to the mall, park in the big parking lot and cross the street to the CHUL hospital. I've got my student card in my pockets. And no idea how this is going to play out. So what do I do? I try to visualize it."
"It was my only hope. There was no other way I could have made it."
"I'm walking around on different floors. And I end up in this one wing. It feels like the place for me, because, I can see the pumps. A woman comes over. She's the head nurse, and she's all, 'Excuse me, are you looking for someone? Cause I saw you over on the other side.'"
"No, I answer. I probably just got the wrong floor."
"'No problem,' she said, with a nice big smile. And that was that."
"So the next day, I said to myself 'Go back there.' Because I liked that floor so much. Stupid old me, I never imagined the same people would be there all weekend!
So guess who I run into?"
"Now the woman says: 'Sir, don't tell me you got the wrong floor again. You were here yesterday! I'm the head nurse. Are you going to leave on your own, or do I have to call security?'"
"So I take out my card."
"I'm a student. In Lévis. I just want to see how everything works. See what being a patient attendant is all about."
"She takes a look at my card. Then she starts laughing and calls over two patient attendants."
"'Mr. Girard, you can shadow these two. Don't touch a thing and don't say a word.'"
"And she told those two guys: 'Show him what you know how to do.'"
"When I went back to school on Monday, I felt like a whole different person."
"That was when I knew I'd found my place. As a patient attendant."
---
Mario stands tall at 5 ft. 4 and ¾ – "Do NOT forget the ¾!" He approaches his job with total commitment.
The moment his uniform goes on, Mario starts clowning around, interacting with his patients. It's a little like in the play, CHSLD. He's the first to admit that his style is unorthodox. But it seems to work.
"My patients have mental health issues: Alzheimer's, delirium. Some like to hit. Hard cases. But they're kids at heart. Real sweethearts."
With one woman, Mario pretends to be a football quarterback. "'10-14-24, hut hut hut!' Boom – in a flash she drops her pants and sits on the commode! It's the only moment in the day when she moves on her own!"
For another resident, the most important thing is taking care of "Blackie," her (mechanical) cat. Be gentle with her!
There's another gentleman who was helped by Mario's mother when he was younger. ('Mario, you've got a special place in my heart. For life!' he says). "But you have to keep an eye on him. He's the worst pickpocket!"
Mario smiles. "I'm blessed. Truly blessed."
With even the toughest cases, Mario is always understanding.
Take the patient who got violent with the entire staff. It took Mario a month to get to know him, figure out a way to work with him. But with a little time and a lot of compassion, Mario got through. The staff was impressed: "Geez, you've got the touch!"
They even called Mario into a meeting. Management wanted to know how he'd done it. The answer was simple. "He and I have had the same life. He spent time on the street. Fighting, drinking. Nobody loved him. So one day I just sat down with the guy. I gave him my full respect."
Mario rubs his right arm, as if to smooth away the tremors he gets when he speaks from the heart. "For me, it's important to be something like… their son."
---
Mario also relies heavily on his team. He sees them "like family."
"I want to bring a little something to the people I work with. I want them to have fun."
Despite the positive energy and sense of camaraderie, patient attendants work under punishing conditions. "I haven't taken a vacation in a year and a half." And yes, they're short-staffed. "There were 18 of us. Now, with COVID, we're down to 10."
"And now we've got plastic gowns. They don't breathe."
He looks at his tattoo of the wand of Aesculapius, the serpent coiled around a rod.
"This is a vocation. Not everyone's got it."
It's a vocation that comes through in everything Mario does, every word that comes out of his mouth.
"I'm a lucky guy. I'm 58. My mental health is getting better. It's hard being alone sometimes. But I get a lot of love from my patients."
And he fights his loneliness. He listens to music. He walks around Quebec City.
And he writes.
"In a great desert of negation
only the sand grain of positivity passes through.
When he turns around
Faced with this great desert of negation
It has become possible to be positive."
Back to the mural